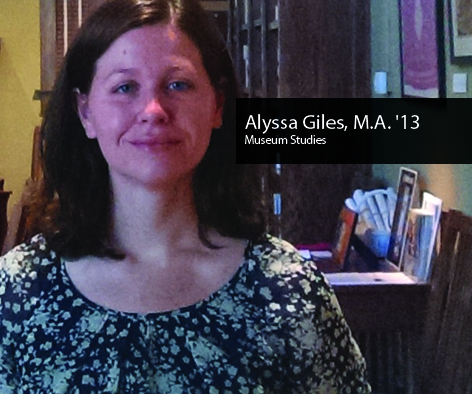 Alyssa Giles
Name: Alyssa Giles
Year of Graduation: 2013
Previous Education (degree and institution): Bachelor of Arts, History at the University of Oklahoma
Why did you choose to pursue your degree at Marist/LdM: After studying abroad in Arezzo, Italy for a year, I truly fell in love with museums and with the massive amount of history and beauty in Italy. So, stumbling upon the Marist/LdM Museum Studies program in Florence seemed almost too perfect to be true, and I'm so glad I found it. The amazing opportunity to study museology while being surrounded by everything that Florence and Italy have to offer was an experience that I could not pass up.
Tell us about a project or course that was particularly meaningful to your professional development: Honestly, I gained something from every course I took in the program. Things just seemed to connect between classes, projects, and thesis research in such unbelievable ways. I suppose working so closely with the amazing museum professionals associated with the program contributed the most to my professional development.
Where did you do your internship? I interned at the Museo Archeologico Gaio Cilnio Mecenate in Arezzo, Italy. It was rewarding to work in an Italian environment since it allowed me to practice my language skills and to learn hands on about Italian museum practices. At the museum, I assisted staff with translating text, and I contributed to the educational programs.
What type of museum career are you pursuing, or are you planning on earning another degree? I am really interested in collections management and registration. Since graduating, I have worked in university collections. I have enjoyed working closely with art and artifacts, while also assisting students, researchers, and the public with various projects.
Where did you travel during your time in Italy? I lived in Italy for 3 years, so I tried to see as much and eat as much as possible. Italy has so much to offer, and it is incredibly easy to travel throughout the country. Also during that time, I traveled to England, Germany, France, Spain, Belgium, Ireland, Austria, and Morocco. I tried to take advantage of my time in Europe and see as many places and museums as possible.
What was your favorite place in Florence and why? Since I didn't live in Florence while in the program, I didn't spend as much time in the city as my other classmates. So, I loved the touristy areas of Florence, especially Piazza della Signoria. I could stare at Cellini's Perseus with the Head of Medusa for hours. A close second would be the Uffizi library. I spent many hours there conducting thesis research. It was such a peaceful setting in the bustling city.
What is your least favorite aspect of living in Florence and why? The Santa Maria Novella train station was my least favorite part of Florence since I had to catch very early and late trains all the time. People walk so slowly!
What advice would you give to a student considering pursuing their master's degree at Marist/LdM: I would tell any student interested in the program to just do it. Don't think. Don't wait. Just do it. The program and my time in Italy have changed my life on so many levels. I learned so much academically and made incredible connections with the most amazing people and professionals. Studying abroad not only enhances your professional marketability, but it also helps you grow and adapt as an individual.
How did you hear about our program? I learned about the program in 2010 during my last semester of undergrad. I had recently returned from Italy, and I could not wait to go back. I randomly found the program online and did a lot of research. The courses and the professionals involved interested me more than the other graduate programs available in Italy because I believed that the Marist/LdM program would provide me with the experience I was hoping to find. And it did.
---
Profile Tags:
Profile Type: Alumni
Major: Museum Studies
Academic School: Communication and the Arts
Campus: Italy