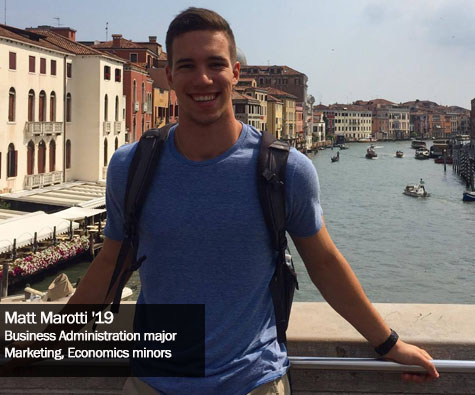 Matt Marotti
Matt Marotti comes to Marist from Killingworth, Connecticut, and majors in Business-Marketing and Economics. As a Sophomore, he is the Vice President of Club Affairs for Student Government, which means he oversees and assists all clubs at Marist.
Looking back, what would you tell your freshman self at the beginning of last year?
I would tell myself to get as involved as possible. There are so many opportunities for students to get involved at Marist, and I think it's important for incoming freshmen to embrace these opportunities so they can meet new people and experience new things.
What was the highlight of freshman year?
The highlight of my freshman year was definitely the last two weeks of school. Hanging out on Marist Beach (the campus green) in the Spring with my friends and seeing so many students having a great time made me realize why I chose Marist in the first place - a strong sense of community.
What are you most looking forward to in the coming years at Marist?
In the years to come at Marist, I'm most looking forward to meeting new incoming students and encouraging them all to get involved on campus. I'm an Orientation Leader, Ambassador, and Tour Guide, so I have the opportunity to interact with a lot of incoming and prospective students; I love talking about Marist and everything it has to offer.
Written by Sarah Gabrielli '18
---
Profile Tags:
Profile Type: Class of 2019
Major: Business Administration
Academic School: Management
Campus: New York