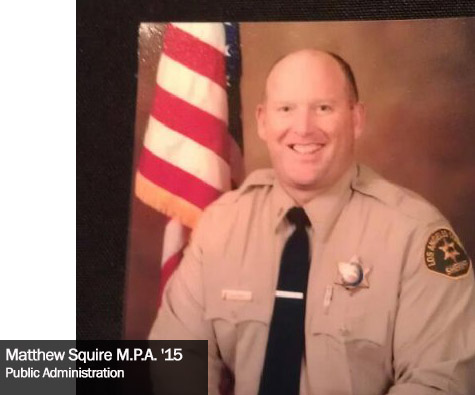 Matthew Squire
Name: Matthew Squire
Year of Graduation: 2015
Current Employer and Position: Los Angeles County Sheriff's Department/Lieutenant

Why did you choose to pursue your degree at Marist:
I chose Marist because of the reasonable cost of the program and Marist's reputation for a quality degree.

Tell us about a project or course that was particularly meaningful to your professional development:
Based upon turmoil my department has endured over the last several years, I found MBA 688N (Ethical Management of Organizations) especially impactful in my ethical leadership concentration. This class helped to provide me with additional insights into the real world drama unfolding within my organization.

How has a degree from Marist and your course work enhanced your career:
I had always wanted to get back to school for an advanced degree, but life and family can get in the way. A few years back, I finally reached a point where starting graduate school was feasible. I loved the challenge the MPA program provided me and feel that by waiting those extra years to start grad school, I was much more prepared to learn than when I was going through undergrad. Now, as a result of being in the MPA program, I feel more confident in my career and ready to take on any new challenges or promotions I am able to attain.

If you took an online class or had online learning as part of a regular course, tell us about your experiences – any tips or suggestions to pass along to future students?
My MPA program was 100% online and outstanding. My suggestion would be to be an active participant from the beginning to end in all of your courses. Provide your professor and classmates with positive, honest feedback and contributions. If you have something negative to say, be respectful and candid and realize it is a two-way street.

Please feel free to provide additional comments:
I am very proud to be a Marist graduate and would highly recommend this program to any member of the law enforcement community interested in getting their MPA.

---
Profile Tags:
Profile Type: Alumni
Major: MPA - Public Administration
Academic School: Management
Campus: Online