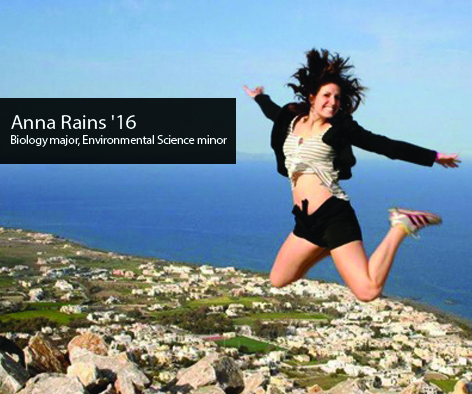 Anna Rains
Anna Rains is a senior from Dallas, Texas majoring in Biology and minoring in Environmental Science. She is a member of the rugby team and spent her freshman year in Florence through the Freshman Florence Experience.
How did you know Marist was right for you?
When I visited in the summer, I got the idea in my head that Marist was this magical land that only stayed 75 degrees because it's so much hotter in Texas. I was wrong! I knew Marist was right when I went to Florence my freshman year; I met so many amazing friends. When I started at the campus sophomore year, I joined the rugby team and everything else fell into place.
How has being a part of the rugby team shaped you as a person?
I have been on the rugby team for three years and it has been a constant lesson on how to become a stronger woman. It has taught me teamwork, perseverance, sportsmanship, hard work, and how to become a leader more than any other sport I have ever played. It also taught me how to get up quickly after getting knocked down, literally. That is more important than many people realize.
What's one thing you're going to miss about Marist?
My friends, that's for sure. Most of them live up in the New York area and when I go back down south, it'll be difficult to see them.
How did Marist prepare you for your desired career path?
As much as I love Marist and everything I am able to do here, I feel like I am ready to move on. I am ready to take what my professors have taught me and apply them to the real world. I have been challenged here that is for sure, so I believe I am ready for new challenges.
Written by Emily Belfiore '16
---
Profile Tags:
Profile Type: Alumni
Major: Biology
Academic School: Science
Campus: New York