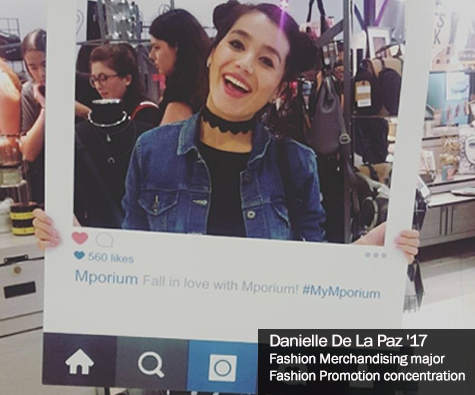 Danielle De La Paz
Danielle De La Paz is a Fashion Merchandising major originally from the west Texas city of El Paso.
What is your major and why did you choose it?
My major is Fashion Merchandising with a concentration in Fashion Promotion. I consider myself to be a creative thinker, and I believe that the world of fashion is such a creative and exciting industry that it will allow me to inspire others in the same way it has inspired me.
What has been your favorite part about the Marist experience?
Definitely, the opportunities that Marist has afforded me. I transferred in 2014 from a university in my hometown. I loved being there but transferring was worth the move because not only have I been able to gain amazing experiences in the field that excites me, but I've also met some pretty amazing people who have helped make my Marist experience one I'll always remember.
What are your plans for after graduation?
Yes! I will be graduating in May 2017, and plan on moving to NYC to pursue a career in the fashion industry in buying, sales, public relations, or merchandising. I also plan on launching my own business that I have been working on for a few years, and plan on integrating philanthropy into whatever I do since that is my main passion beyond anything else – giving back to others in any way that I can.
Any advice for high schoolers considering Marist?
Enjoy the ride and make the most of your Marist experience! Your college experience is what you make it. It's all about having a positive attitude about yourself first in order to have a positive attitude about the beautiful school you'll be attending. It goes by so fast, so enjoy every moment and be proud to be a Red Fox.
Written by Shannon Donohue '17
---
Profile Tags:
Profile Type: Class of 2017
Major: Fashion Merchandising
Academic School: Communication and the Arts
Campus: New York