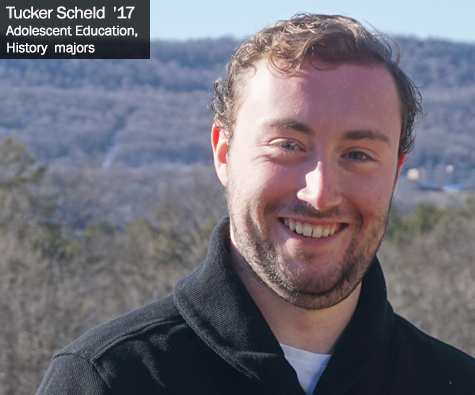 Tucker Scheld
Tucker Scheld is a senior from Montvale, New Jersey. He is a History-Adolescent Education major and a member of the men's rugby team, History Club, and Eye-to-Eye Mentoring. He also studied abroad in London during the fall of his junior year.
What have you learned since freshman year?
I have learned that despite the challenges they may present while in class, as well as their high standards when it comes to effort and work quality, that the professors (especially the History faculty) are among the most intelligent and interesting people you could ever meet. They all have their own unique personalities that make them much more than just exciting professors, but amazing mentors and friends. The community they create on campus is second to none, and it has made my undergraduate years a fantastic experience.
How has Marist helped you on your path to becoming a teacher?
New York State Teacher Certification is one of the country's most demanding programs, and the Education faculty have been much more than just professors giving me the skills and secrets of how to be an effective teacher. They have gone above and beyond to ensure that the students can carry out interesting and engaging lessons, while at the same time adhering to the rigorous standards for New York State. Each professor has told stories of his/her own personal experiences while teaching which have motivated me in the classroom. I want to reflect the high standards that are placed on me.
Why did you decide to study abroad?
I chose to study abroad not only to diversify my own resume and travel to a different country to experience the culture but specifically I wanted to work in an education setting. As a student in the Education Department there are very few opportunities to study abroad, let alone work in a school in another country, and going to London allowed me the chance to fulfill those two goals. As a historian, learning about new cultures has always intrigued me, and in a place with as rich a history as England, I was in heaven. Being able to participate in the study abroad program with even the slimmest chance to fulfill some education and history dreams pushed me to apply and I am so grateful that I was able to do so.
Written by Adriana Belmonte '17
---
Profile Tags:
Profile Type: Class of 2017
Major: Adolescent Education
Academic School: Liberal Arts
Campus: New York