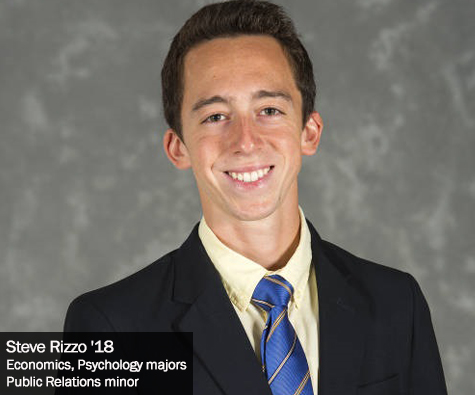 Steven Rizzo
Steven Rizzo is a junior from Wappingers Falls, NY. He is double majoring in Economics and Psychology and minoring in Public Relations. He is also a member of the Marist's D1 men's cross country and track teams.
Why did you decide to come to Marist?
I decided to come to Marist because I was familiar with the campus and intrigued by the academic programs offered. Marist was also the most generous school I applied to in regard to scholarship allotment. At first, I was hesitant about coming to Marist because it is so close to home, but I ended up never wanting to leave campus in a matter of days.
What is the biggest lesson you have learned being a member of a D1 team?
Being a D1 athlete has helped me become a much more disciplined person. Learning to manage my time so that I could succeed in the classroom, on the track, and in my extracurricular activities was no easy feat. Eventually, I was able to adjust to a routine that made it easy for me to accomplish these goals.
What is your favorite memory from freshman year?
My favorite memories from freshman year are the many times when I would get together with the guys on my floor and hang out in the lounge or come up with fun things to do in the dorm hallways.
Do you have any advice for incoming freshmen?
It is okay to not know what exactly you want to do with your life. The same goes for not knowing what you want to major in. College provides a chance for you to get a better feel for different fields and find your own passions in the process.
Written by Erin O'Brien '18
---
Profile Tags:
Profile Type: Class of 2018
Major: Economics
Academic School: Communication and the Arts
Campus: New York