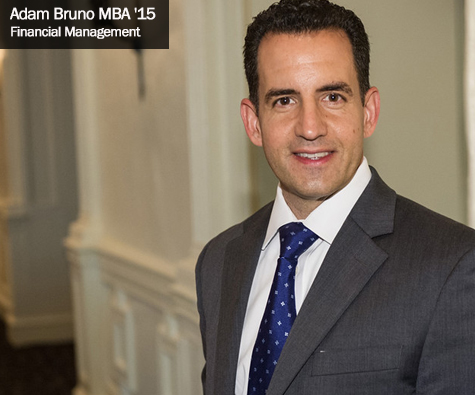 Adam Bruno
Adam Bruno is a member of Marist's online MBA Class of 2015. He lives in the New York City area and is employed by the New York City Police Department where he holds the rank of Sergeant.
Tell us about your work history before Marist, including years of experience, industry, companies, and positions:
I have been employed with the New York City Police Department since 1997. I have worked in various capacities including patrol, evidence collector at crime scenes, research analyst for the Police Commissioner's Office, integrity control officer, training sergeant, and now as operations coordinator managing compliance and the day-to-day operations of my unit.
What are your career goals?
To transition into the private sector and obtain a position in risk management and compliance.
Why did you choose to pursue your degree at Marist?
Marist has a great reputation, the program is flexible for busy professionals, and the degree is transferable in numerous fields of business.
Tell us about a project or course that was particularly meaningful to your professional development:
I enjoyed the Mount Everest Simulation experience used by one of my professor's; it taught about leadership and teamwork. Each member had to reach individual goals while also achieving group goals, which can be difficult to mesh together.
How has your coursework enhanced your career?
I have been recognized in my field as a seasoned manager with a superior education.
What advice would you give to a student considering pursuing their master's degree at Marist?
The master's program at Marist was excellent! The class work was rigorous, the faculty members challenged me academically, and the other students were very involved in the learning process. Marist is a great school for busy professionals who want a top-quality education.
Discuss your experience with Marist's online learning environment:
The online learning environment was exceptional! Most of the communicating with the professors and other students took place through a forum on iLearn. The system worked perfectly; I never had an issue with it throughout my entire three years in the program. Most impressive to me was the diverse, professional backgrounds of the other students, their professionalism, and willingness to learn as much of the course material as possible.
What do you believe are some of the most important issues in the field of leadership development?
Continued growth through experience, education and a willingness to learn.
What are the important leadership skills that MBA candidates need to develop to create an impact in their organizations?
A positive attitude, integrity, good communication skills and a commitment to work hard.
---
Profile Tags:
Profile Type: Alumni
Major: Business Administration
Academic School: Management
Campus: Online