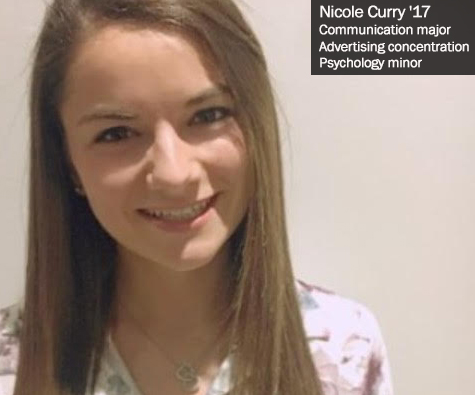 Nicole Curry
Nicole Curry is a senior from Stamford, CT. She has a major in Communication with a concentration in Advertising.
How did you decide on your major?
I'm a communications advertising major and a psychology minor. I decided on advertising because I wanted to have the proper tools and techniques to get messages out there to targeted audiences in creative ways. I chose psychology because I wanted to understand the mind and why people are the way they are. Combining the two is extremely interesting and I initially came to Marist to apply advertising to psychological issues to spread awareness about various mental health problems.
What was your favorite part about the Marist experience?
My favorite part about the Marist experience was the opportunity I had to make incredible lifelong friends and going abroad. I was lucky enough to study in Florence at Marist-LdM with my best friends and housemates during my junior year. I traveled to 8 different countries in four months and it was hands down the best part - not just of Marist, but my entire life. I learned so much about different cultures and I still am in contact with so many people I've met from all over the world.
Did you participate in any noteworthy extracurriculars?
I've been in a lot of clubs during my time at Marist, but I honestly enjoyed the volunteer opportunities the most. I served at the Soup Kitchen my freshman year and I was a part of Habitat for Humanity builds in Dutchess County my sophomore year.
What did you do for fun/in your free time during your time at Marist?
Marist's location has so much to offer. I enjoy hiking every weekend in the Hudson Valley and I also love taking advantage of all things the Valley has to offer in general like visiting orchards, kayaking on the river, and watching all of the beautiful sunsets here on our very own campus. In my free time I also enjoy going to the gym, playing tennis, visiting the music building to play piano, and of course being surrounded by my friends.
What are your plans for after graduation?
I have a summer internship in Manhattan at a media agency where I will be a part of the marketing team. After this, I plan on becoming a student travel tour guide in Europe for a year before I work in the advertising world full time.
Any advice for high school seniors coming to Marist?
Marist is filled with opportunity in more ways than one. They have all types of facilities and programs that can help you find exactly what you're looking for and the support given for absolutely anything you need is incredible. You will feel right at home here. The most important thing that I can tell you is to enjoy yourself while you learn. Find excitement in meeting with professors and other people you can learn from. Don't be afraid to talk to that person in your class or say hi to the person walking next to you. Classes and work can be hard, but make sure you always find enjoyment in it. At Marist, it won't be hard to do this because peers, professors, and your friends will always be there to help. College is the best four years of your life and you'll find that little things don't matter. Don't sweat the small stuff. Enjoy! Enjoy! Enjoy!
Written by Shannon Donohue '17
---
Profile Tags:
Profile Type: Alumni
Major: Advertising
Academic School: Communication and the Arts
Campus: New York