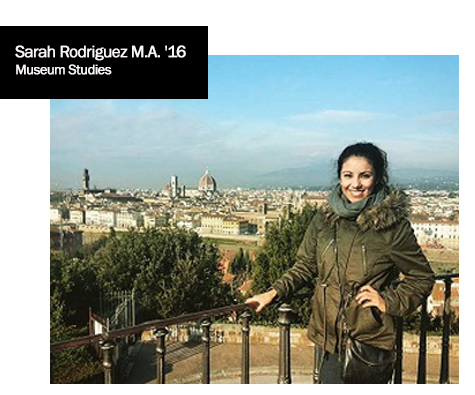 Sarah Rodriguez
Sarah Rodriguez is a member of Marist's M.A. in Museum Studies Class of 2016. She received a Bachelor of Arts in Anthropology and Italian from the University of Oklahoma.

Why did you choose the Marist Italy Florence branch campus?
For a degree in museum studies, Florence is the perfect location considering all of the museums as well as the history and culture of the city.
What is the learning experience like in Florence?
Every day, you have the ability to learn; the experiences range from learning a new language, a different culture, and its customs, and ultimately, how to find yourself and your dreams in a city with such a historical past.
What is your favorite class? Why?
My favorite class is Transcultural Aesthetics, Ethnography, and Cultural Bias because it's an anthropological perspective on museology and it is relevant to my research and interests.
What is your favorite place in Florence? Why?
My favorite place in Florence is the San Niccolò area of the city. It's a great escape from the busy, tourist attractions, the views are brilliant, and there's a certain atmosphere that can only be felt.
What is your least favorite aspect of living in Florence and why?
My least favorite aspect of the city is that sometimes, it's easy to feel very confined. It's easy to stay within the city center as a routine and never really explore much beyond.
What type of museum career are you pursuing, or are you planning on earning another degree?
As a museum career, I hope to work as a collections manager or registrar someday. I would love to work with archives and documentation above all in any type of museum.
What type of internship do you have or plan to have, and where is it located?
I plan on interning at an art museum in Florence in the fall either assisting the registrar or working with the conservators.
Where have you traveled during your time in Italy?
I've traveled within the country and I've had the opportunity to visit the Netherlands, Czech Republic, France, Romania, Spain, and Germany.
What is the most interesting difference between Florence and your home country?
The exercise culture and running. In Florence, it's very rare to see runners in the city and it's even more bizarre to see people dressed in their workout attire.
What advice would you give to a prospective student considering pursuing a Master of Museum Studies degree in Florence?
Take the risk and study Museology in the city. You will have the chance to visit so many amazing museums, meet incredible directors and professors in the academic and professional field, and honestly, have an enriching experience that will prepare you for a career in a museum.
---
Profile Tags:
Profile Type: Alumni
Major: Museum Studies
Academic School: Communication and the Arts
Campus: Italy