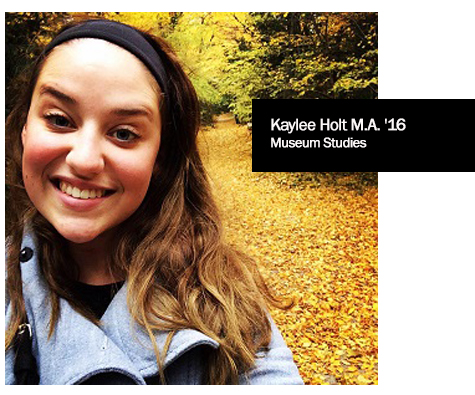 Kaylee Holt
Kaylee Holt is a member of Marist's M.A. in Museum Studies Class of 2016. She received a BA in Anthropology from the University of Kentucky.

Why did you choose the Marist Italy Florence branch campus?
I chose Marist Italy because I had previously studied abroad through Marist at their LdM-Tuscania location. I had the most amazing experience studying in Tuscania and I knew I wanted to return to Italy before I had even left. I found the Museum Studies program and I knew that Florence would be the perfect place to study in this field.
What is the learning experience like in Florence?
Studying museums in Florence is truly a one-of-a kind experience. I have spent the last 9 months having classes in museums around Florence, taught by real museum professionals. This is a program that actually gives you the opportunity to put what you are learning into practice and to actually see different aspects of the Museum field first-hand.
What is your favorite class? Why?
My favorite class is definitely the Museum Law and Ethics class. Sofia is an amazingly brilliant professor, she is so passionate about the subject matter and that has really made an impact on us as students.
What is your favorite place in Florence? Why?
My favorite places in Florence are the horticulture gardens that are out of the city center a bit. There is a huge dog park there and it is virtually free of tourists. It is peaceful and has beautiful views of the city.
What is your least favorite aspect of living in Florence and why?
If there actually could be a downside to living in Florence, it would have to be the mass quantities of tourists. Occasionally you have to fight your way through mass groups of people and that can be a struggle sometimes. However, a short walk away from the city-center and you are free from the crowds and the chaos.
What type of museum career are you pursuing, or are you planning on earning another degree?
I hope to eventually go back to school to receive a Ph.D. in Mediterranean Archaeology, however, currently I am pursuing a career in collections management. After my Ph.D., I would like to be a curator of Etruscan collections.
What type of internship do you have or plan to have, and where is it located?
I will be interning at the Denver Art Museum in Exhibitions and Collections but through a more educational lens. I will have the opportunity to work with visitor surveys and researching specific items and collections in order to present them in a more didactic way to the public.
Where have you traveled during your time in Italy?
While in Italy I have been to many cities all throughout the country, both north and south. Aside from exploring Italy, I have also had the opportunity to travel to Prague, Vienna, Frankfurt, London, Bucharest, and Paris.
What is the most interesting difference between Florence and your home country?
I think the tempo of life is the most interesting difference between Florence and the US. Time moves at a much slower pace here, people enjoy a glass of wine with their lunch, or hang out on a corner chatting at any time of the day. The Italian people have truly learned to embrace the art of "Dolce fa niente," the sweetness of doing nothing.
What advice would you give to a prospective student considering pursuing a Master of Museum Studies degree in Florence?
I would advise you to take the jump and move to Florence for a year. This program will open so many doors for you and you will learn so much about this profession and about yourself during your time in Florence. This program will be challenging and difficult at times but the rewards are tremendous.
---
Profile Tags:
Profile Type: Alumni
Major: Museum Studies
Academic School: Communication and the Arts
Campus: Italy