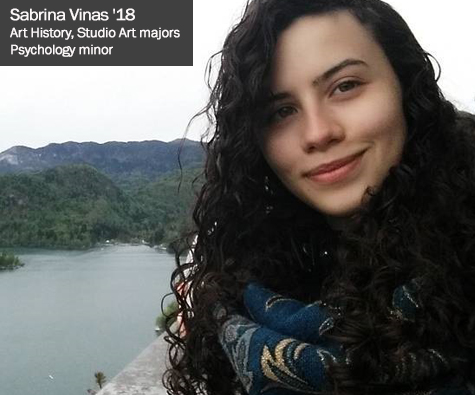 Sabrina Vinas
Sabrina Vinas is a double major in Art History and Studio Art studying at Marist's branch campus in Florence, Italy. She is from Kearny, NJ.
Why did you choose the Marist Florence branch campus?
The first time I came to Italy was the summer after my freshman year in high school, as a People to People: Student Ambassador. The beauty, the culture, and the warmth of my homestay were all so wonderful, but the pivotal moment where I decided I needed to go to school here was when we were walking through the streets of Florence. We had just seen Michelangelo's David and my group was fascinated, but I was disappointed over the fact that we wouldn't have time to see the works by Da Vinci, whose notebooks had taught me how to draw, while we were there. Then, while walking through the city, towards Santa Maria del Fiore, our guide pointed out a plaque with my master's name on it, and though I couldn't read anything other than his name, I was suddenly overcome with the need to come back, live where he lived, work where he worked, and learn to read what I couldn't then. The rest of my stay in Italy suddenly was so much more entrancing than it already had been, and when it came time to look for schools, my main focus was finding an art program that would place me back in Italy, I was just so lucky to find Marist in Florence! No other school's study abroad program could compete with Marist's full four-year degree in Florence, and once I was accepted, my choice of school wasn't a choice at all.

Describe the learning experience in Florence.
The learning experience isn't just in the classroom, but it's in the museums, and especially at home. My professors have been so helpful and so happy and willing to help that in just over two years I went from primarily being a sketch artist to being an oil painter recently accepted to Marist's Venice program during the Biennale! Professors here make every effort to guide to into new waters while still emphasizing the crucial importance of the fundamentals of art, which Florence and the Renaissance are known for. Unlike other schools here in Florence, you're not forced to be so traditional that you lose the ability to be creative or expressive, and unlike many schools I've seen back home in the US, the focus isn't so much on being the next contemporary trend that you lose out on learning the fundamentals. As an artist, we need both to truly reach our full potential, and the learning experience here in Florence marries those two together beautifully in the classroom. Of course, living on your own here has also been another learning experience on its own. I feel that being placed in this atmosphere in every way teaches you to become an independent adult.

What is your favorite class? Why?
Painting has definitely been my favorite class, both because of the professors and the fact that painting is now my chosen medium. But, classes like Artists in Italy Today, where we got to meet actual artists in Italy, and Marble & Stone Sculpture, which has given me a love for 3D work, are a close fight for second.

What was your most challenging class in Florence? Why?
My most challenging class here was probably either Marble & Stone Sculpture or any one of my painting classes. Sculpting things like marble and alabaster are workouts in and of themselves, so I'm glad I came into the class used to heavy physical work. Painting, on the other hand, was something I only got to start once I came here, so every class has been very challenging for me. But the progress I have made since my freshman year is probably most astounding to me than anyone. I never thought I could make such a leap in such a short time, after years of teaching myself everything I knew about art. Being open and outgoing, seeking out as much help and advice from your professors, is key to an optimal learning experience, and I highly recommend it.

What is your favorite place in Florence? Why?
Oh! That's La Specola, no question! It's a small museum hidden in the far shadow of Palazzo Pitti, but the collection of zoology and anatomy there is incredible! And with anatomy such an important book of knowledge to have as an artist, this museum is a must-see, many times over. After 3 years, I still go back excited every time.

Where have you traveled and where do you plan on traveling during your time in Italy?
With the school, I've been so fortunate as to visit some lesser known parts of Italy, like the vastly different and unique cities and towns of Puglia, as well as Slovenia. On my own, I've been able to go to France and England multiple times and to see Palermo, Sicily, where my Italian side comes from. I also discovered that being here poses a great opportunity for anyone who's ever wanted to see Asia! I was actually able to swing a trip to Japan in my sophomore year! A note to all: Airbnb is your friend.

What is the most interesting difference between Florence and your home country?
Florence is another world beginning with the sight of it alone. There really is nowhere you can go to see this type of architecture other than Italy, and the food is no different. It's also incredibly affordable to eat healthy here, especially if you make visiting the Mercato Centrale a habit, which is great because I guarantee you will be cooking. Most of us don't have microwaves, and who would want them with how expensive junk food is here? But overall, there is a very dignified air about Florence and the Italian culture in general that is in the way they dress, the way they socialize, and the way they carry themselves.

How do you stay connected with home?
Facebook messenger and Line! Download those apps! Some nights I can be on the phone for hours for free!? When family, friends, and I are free at the same time, so we take advantage of it.

How did the faculty and staff support you during your time in Florence?
I love making plans for my future, and I am so thankful that the faculty and staff here shared in my enthusiasm! I can't begin to explain how helpful they all have been, even with the little things like recommending certain foods and restaurants, or telling you where to find certain products you might be missing at home. It all goes back to making the effort to ask!

What advice would you give to a prospective student considering the Florence branch campus?
I would say to prepare for a wonderful, maturing experience. At home, my family and I would talk about the purpose of college being a process of learning to be an adult, and after three years here, I agree. Be prepared to take care of yourself, to do things on your own, to take steps yourself in order to achieve. Be prepared to learn the problem solving that comes with being on your own, and remember that mom and dad are not a drive away. I know that may sound intimidating to a lot of young people, but I promise you the return is well worth it. And in learning to be a powerhouse of a young adult, you not only gain confidence in yourself but the ability to make the absolute most of this experience.
---
Profile Tags:
Profile Type: Class of 2018
Major: Studio Art
Academic School: Communication and the Arts
Campus: Italy