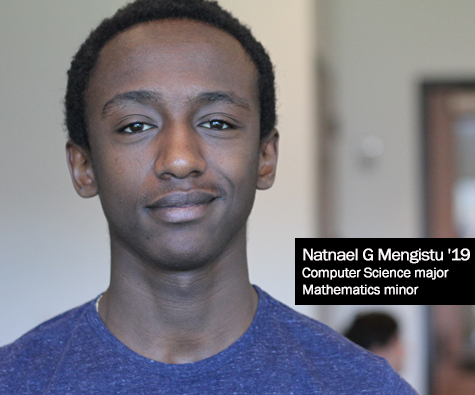 Natnael G Mengistu
Natnael G Mengistu is a member of Marist's Class of 2019. He is an international student from Addis Ababa, Ethiopia and is a computer science major.
Why did you choose Marist College?
I chose Marist because it has one of the best computer science school in the country, and also because it has a great infrastructure.
What was your favorite class? Why?
My favorite class is Calculus. I love calculus class because I have a good professor and because of the quality of the communication and respect in the classroom.
What is the best part of living on campus?
The view and the chance to socialize with people I wouldn't have met if I stayed back home.
Where is your favorite place on campus?
I love going down to the river and watching the sunset.
How do you connect with friends and family at home while at Marist?
We have good Wi-Fi connection in the school. So I get to skype and call them whenever.
What kind(s) of extracurricular activities are you involved in?
Campus ministry, Computer science club, and Mathematics club
Tell us about a "cultural" moment you had at Marist (culture shock, funny story, etc.).
The first week of international orientation week I got to meet so many people from different sides of the world and it was so exciting. I got to learn about all different cultures.
What do you do for fun outside of Marist?
I usually go to New York City with friends. Sometimes I go to the mall to watch movies and hang out.
---
Profile Tags:
Profile Type: Class of 2019
Major: Computer Science
Academic School: Computer Science and Math
Campus: New York