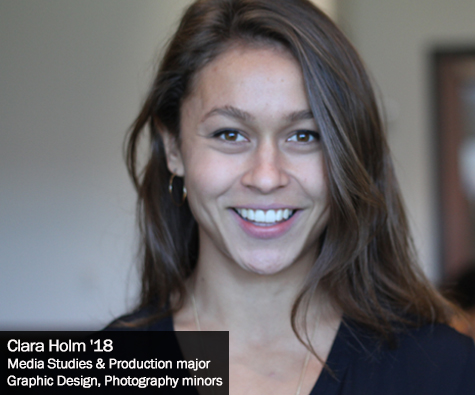 Clara Holm
Clara Holm is a member of Marist's Class of 2018. She is an international student from Copenhagen, Denmark and is a Media Studies & Production major with minors in Graphic Design and Photography.
Why did you choose Marist College?
I chose Marist because it was in NY and because I was interested in sports. I wanted to try out for the Women's D1 Soccer team. Marist also had my major and some interesting minors that I recently decided to take. Marist is a small school, in my opinion, each class has a maximum of 35 students, so you get to build a close relationship with your professors, which is important and probably one of my favorite things.
What was your favorite class? Why?
Video Production by far. My professor was such a fun and kind of crazy guy. He was amazing; his name is Adam Zaretsky. You can take him for Digital Toolbox as an elective, so I strongly advise that. I got to work with professional video cameras in real studios on campus. So much fun!
What is the best part of living on campus?
The best part about being on campus is being surrounded by people, having a roommate, and building close relationships with your friends. I also enjoy having easy access to the gym, library, pool, dining hall and other facilities at all times. You really become independent and find yourself.
Where is your favorite place on campus?
My favorite place is sitting at the sushi bar in the dining hall. You get to see everybody and get unlimited sushi!
How do you connect with friends and family at home while at Marist?
I use FaceTime to connect with home.
What kind(s) of extracurricular activities are you involved in?
I am involved in intramural soccer and boxing. I am a part of the Booster club and I am an Ambassador here at Marist.
Tell us about a "cultural" moment you had at Marist (culture shock, funny story, etc.).
The American food culture is shocking and it is difficult to resist it. I try to eat really healthy, and the dining hall does have those choices. They also serve international foods, so us international students can feel a little at home.
What do you do for fun outside of Marist?
I enjoy the nightlife in the surrounding community, its lots of fun and safe.
---
Profile Tags:
Profile Type: Class of 2018
Major: Media Studies and Production
Academic School: Communication and the Arts
Campus: New York