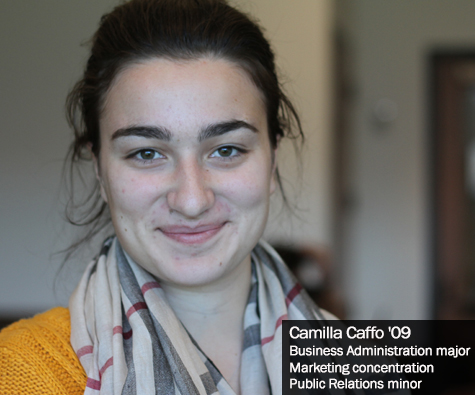 Camilla Caffo
Camilla Caffo is a member of Marist's Class of 2019. She is an international student from Modena, Italy and is majoring in Business Administration with a concentration in Marketing and a minor in Public Relations.
Why did you choose Marist College?
I chose Marist because it had the qualities I was looking for in a school: Good Academics, good internship programs, and a great community. When I first stepped onto campus I realized that I was going to be part of a family who would help me thrive, and who would give me the tools to be successful in the future. I also chose Marist because it is really close to New York City.
What was your favorite class? Why?
My favorite Class is Introduction to Business and Management. This class is subdivided in a lecture class where we learn interpersonal skills useful in the business world, and a small section where we have to do a business plan in teams for a real company. All the small sections are engaged in a business competition where the best business plan is presented to the client. I think it's a really great opportunity. I am able to see what business is really about. I also like the fact that the professors are really helpful.
What is the best part of living on campus?
The best part of living on campus is that there's always something to do with your friends. There are movies, trips to Broadway in the City. I also love living in the freshman dorms. I get along with everyone on my floor, so it almost feels like a sleepover every night! Our RA organizes a lot of events. I love the fact that I am never bored on campus!
Where is your favorite place on campus?
My favorite place on campus is down by the river, I go there often because it is peaceful and quiet. It is so pretty that It doesn't even seem real, that I am actually studying here. It looks like I am on vacation in a beautiful place.
How do you connect with friends and family at home while at Marist?
I easily connect with my friends through WhatsApp, Skype, and Facebook. The Wi-Fi is all over campus, so I am always connected with my family and friends back home!
What kind(s) of extracurricular activities are you involved in?
My favorite extracurricular activity is being an Ambassador. The Ambassador program is an amazing program that helps prospective students get to know Marist and help them in their college search process. It is great because I get to talk to future Red Foxes and to show them how great Marist is. I am also involved in Campus Ministry, and I love it. In Campus Ministry, I do a lot of community service. There are different options for volunteering, so I am happy that I can choose whatever activity I am more comfortable doing. I am a part of the Italian American Society, which is a fun way to be connected with people who share my roots.
Tell us about a "cultural" moment you had at Marist (culture shock, funny story, etc.).
Funny stories happen every day and I love it. All of my friends are really curious to know about my country so they have a lot of questions. I get asked the weirdest question; if we eat pizza every day and if we have trees. It is funny to give them weird answers and see them wonder if what I am telling the truth or not. I also use the wrong words sometimes and then we all laugh about it.
What do you do for fun outside of Marist?
Sometimes I go with my friends to the city for a Broadway show or just to hang out. I love New York City so it's always nice to go there since it is so easy and fast to get there. I go to the mall to eat with my friends from time to time.
---
Profile Tags:
Profile Type: Class of 2019
Major: Business Administration
Academic School: Communication and the Arts
Campus: New York