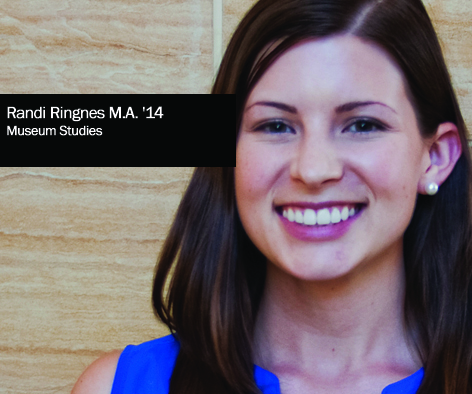 Randi Ringnes
Name: Randi Ringnes
Year of Graduation: 2014 (coursework 2012-2013, thesis defense 2013, degree awarded 2014)
Previous Education (degree and institution): Bachelor of Arts in Art History from Northern Arizona University in Flagstaff, Arizona.
Why did you choose to pursue your degree at Marist/LdM:
I have always had a passion for art history and museums as well as Italian language and culture – and when looking for a graduate school, I knew I wanted to find one that offered experience in all of those areas. Marist/LdM's Museum Studies M.A. program in Florence was exactly that: an opportunity for me to not only expand my knowledge of the museum and cultural heritage world but also to dive into the Italian culture first hand.
Tell us about a project or course that was particularly meaningful to your professional development:
Knowing that I wanted to work in education and programs, the Museum Education class was especially relevant to me and my career goals. The class offered a broad look at what museum education is and the many forms it takes. I particularly appreciated the opportunity to develop and implement an educational tool and even put it into action. We worked in groups to come up with site-specific educational offerings for the Alinari National Photography Museum and then were able to have the public try out prototypes of our creations during the Festival d'Europa museum expo in Florence. This was such an exciting (and informative) opportunity!
Where did you do your internship?
I did my internship with the Education Department of the Polo Museale Fiorentino, the organization that oversees all of the State museums in Florence including the Uffizi Gallery, Accademia Gallery, and Pitti Palace, among others. The Education Department offices are located in the heart of Florence in the Uffizi building.
What type of museum career are you pursuing, or are you planning on earning another degree?
I currently work as the Public Programs Coordinator at the Musical Instrument Museum (MIM) in Phoenix, Arizona. I got an internship at MIM just a few months after I came back to the U.S. from Florence, while I was finishing up my thesis. Since then, I managed to turn the internship into a part-time and then full-time position. I am so thankful to be working at such a wonderful institution in the exact area of the museum field that I intended.
Where did you travel during your time in Italy?
My roommates and I made it a point to travel as much as possible while we were in Italy, and we certainly accomplished that goal. Florence is such a prime location as far as regional and international travel goes. I enjoyed taking weekend and day trips to little towns in Tuscany and nearby regions when I needed to escape the city. I also explored other countries in Europe including Spain, Norway, France, Austria, Slovakia, Hungary, Belgium, Luxembourg, Netherlands, and Denmark.
What was your favorite place in Florence and why?
This is a tough question! I fell in love with Florence and really can't say that I had only one favorite place. In truth, my favorite "place" in Florence turned out to be all of the nooks and crannies of the city because they offered a little respite from the crowds as well as a chance to stumble upon intimate gardens, chapels, and cafés that I otherwise would never have found. I loved going for a walk, turning down a little alley I hadn't seen before, and finding myself in a tiny chapel listening to the organ or buying a pastry in a shop only the locals know of.
What is your least favorite aspect of living in Florence and why?
Like most people, my least favorite aspect of living in Florence was the hustle and bustle of tourist season. It could be incredibly overwhelming to find yourself caught up in the midst of a huge tour group rushing to the next museum, but it also makes you appreciate the fact that you live in Florence. It always reminded me how fortunate I was to be able to slow down and really soak in the city; most tourists only have about three days to jam in all the sites they can, but I had the delightful luxury of doing my homework at the Boboli Gardens.
What advice would you give to a student considering pursuing their master's degree at Marist/LdM:
My advice is to go for it! This program offers some amazing opportunities to work with museum professionals and get real experience in Florence's museums, but you should also remember that you get out of it what you put into it. Embrace Italian culture (which is wonderfully slower-paced than the U.S.), build relationships with your professors and ask them about their careers, eat delicious food, go to all the extra-curricular events, try to learn at least some of the language, get a library card at one of Florence's beautiful public libraries, step out of your comfort zone and soak it all in.
How did you hear about our program?
I found it through online searches for international museum/arts graduate programs.
---
Profile Tags:
Profile Type: Alumni
Major: Museum Studies
Academic School: Communication and the Arts
Campus: Italy