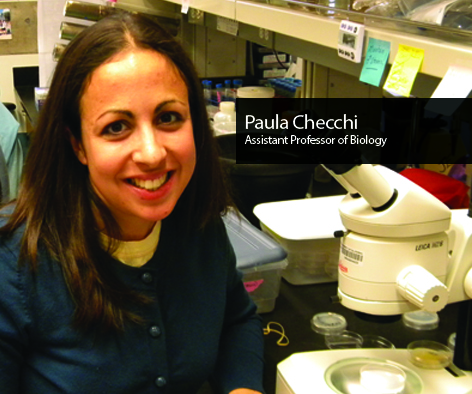 Paula Checchi
Dr. Paula Checchi teaches General Biology I and II, Human Genetics, Developmental Biology, and Capping for the School of Science's Biology Department. She recently received a National Institutes of Health Academic Research Enhancement Award for her project titled "Role of Higher-Order Chromatin Structure in Gamete Formation."
What generated your interest in biology and science in general?
As a little girl, I would spend hours exploring the outside world, fascinated by all of the wildlife surrounding me. In middle school, an entirely new world opened up to me when I first peered through the eyepieces of a microscope. Since then, my interests in microscopic biological processes have continued to build, leading me to ultimately pursue a graduate degree in Biochemistry, Cell and Developmental Biology.
How did you get involved with teaching at Marist? What do you love the most about teaching here?
I was initially hired to teach developmental biology, which was the focus of both my undergraduate research as well as my doctoral research project. I also developed a research-based laboratory component for this course wherein students use model organisms to investigate the role of several recently identified genes that are linked to autism in humans. Both this course and Human Genetics, a non-majors course that I also created, are among my favorites to teach here, primarily because of how passionate the students become about learning these topics. I have a lot of fun in the classroom, and I absolutely love witnessing those "aha!" moments when the light bulbs go off and students can make the connections between the topic at hand and their own lives.
How do you get your students involved in research? What kind of research do you do?
I typically mentor 3-5 undergraduate research projects per semester as well as during the summer. In my research laboratory, we study a process called meiosis, a specialized form of cellular division responsible for generating all of our eggs and sperm. The focus of our work has direct implications for human fertility, as errors in meiosis result in miscarriage and are directly responsible for common developmental disorders such as Down syndrome.
What is your favorite part of the Marist community, especially the students?
I love the energy of the students here. So many of them are incredibly driven, both in and out of the classroom. Seeing them succeed is undoubtedly the best part of my job, and I feel very fortunate to have made so many connections with students in the time I have been here. My research students, in particular, I spend countless hours with, and it is by far the most positive laboratory environment I have ever worked in.
Why should students take an interest in science?
Students (and everyone!) should absolutely take an interest in science. Science defines the world we live in. Everything from climate change, our bodies, and even what and how we eat are directly influenced by science. Learning how to effectively design and carry out an experiment (and the many challenges that can arise during this process!) not only cultivates analytical thinking, but it can also translate to how to manage obstacles we encounter in our daily lives.
What is something that you're exceptionally proud of from a professor perspective?
This would be a tie between the day that one of my very first students whom I trained in my research laboratory decided to pursue her Ph.D. at Emory University (which is where I went for my doctorate) and when before leaving, she presented me with a framed photo of one of the first images she captured on the microscope here from a slide she had prepared in my lab. It hangs in my office and I think of her every time I see it.
What is one thing about yourself that you would like a prospective student to know?
I had absolutely NO idea what I wanted to do with my life when I started college. I always loved science, but as a freshman, I was actually a double major between Biology and Studio Art and pursued music on the side. It was not until my junior year, in fact, that I seriously considered research as a career option, and even then, I would have never imagined myself as a college professor down the road. I'm especially grateful to the teachers and mentors I had to guide me along the way, and I hope that prospective and currents students recognize all of the opportunities they have here at Marist to do just that!
What is something that you hope your students take away from their time working and learning from you?
Seeing them excited about biology is by far the most motivating and inspirational part of my day and my career in general. Even if they are not pursuing a future in biology, I hope that they continue to maintain a genuine interest in science throughout the rest of their lives.
Written by Adriana Belmonte '17
---
Profile Tags:
Profile Type: Faculty
Major:
Academic School: Science
Campus: New York