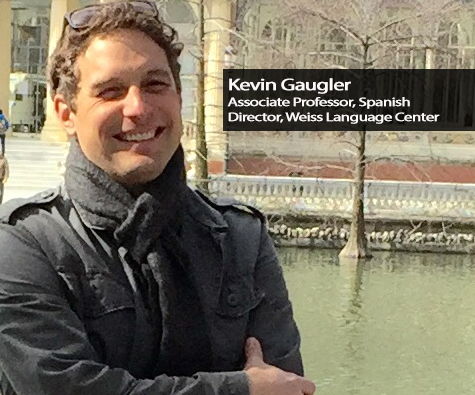 Kevin Gaugler
Dr. Kevin Gaugler teaches all levels of Spanish and a First Year Seminar class at Marist. In the past, he has taught Cultures of Spain, Communicating with the Spanish Speaking World, Spanish in a Digital Age, and Contemporary Spanish Literature. He also teaches a short-term abroad course in the Dominican Republic and is heavily involved with the Weiss Language Center on campus.
How many languages do you speak? Are you planning on learning more?
English is my native language but I have a Ph.D. in Spanish Literature and a B.A. in German. I have also picked up Italian over the years and I'd be interested in learning Portuguese next but haven't had the opportunity yet.
Was it travel that inspired you to learn different languages or something else?
Travel did inspire me to learn languages. I'd never been out of the country until I took a trip with my school to Spain when I was 16. The idea that an entire population existed that lived in a different language fascinated me. I wanted access to that world so, in college, I studied languages since I thought it was my ticket to travel the world.
Where have you traveled to and where do you want to go in the future?
I've traveled extensively throughout Europe, living for a period in Spain, Germany, and Italy and I know Europe well enough to feel at home there. I've dipped a toe into Asia and Africa too. I know the Dominican Republic well and have been there many times but I certainly would like to travel throughout Latin America when the opportunity affords me. I have a real desire to explore our hemisphere now.
How did you get involved with the Weiss Language Center?
Since graduate school, I've developed an expertise in Computer-Assisted Language Learning. When I started at Marist in 2000, I worked with Dr. Claire Keith who's a founder of the Center and in many ways, its brainchild. A few years ago, I took over as the Center's director and most recently oversaw its renovation.
Why is it important for students to learn a different language in today's world?
I don't think we understand in the U.S. the scope at which global industry, diplomacy, and media have become. Most of the world is trying to learn several other languages, including English, in order to secure a better job. In much of the world, a language is a ticket to upward social mobility. Once you step out of the English-only world you see what a language affords you: the relationships that you build that only those on the inside can foster. You can get some of that by traveling the world and hoping the world speaks English or you can experience the world when you traverse the wall that is the language barrier. You cannot understand another culture truly until you speak its language. Speaking another language is like having a superpower and those who haven't broken the language barrier can never quite understand what that means until they've done it themselves.
Tell me more about the class you were involved in that was featured on NPR.
In 2006, I worked with a team at Marist to develop a course on culture and human identity in which all the students were online and located around the world in different countries. The students would complete assignments by recorded interviews with members of the target culture in which they lived and the group would compare and contrast these responses to better understand how concepts of history, gender, family, marriages, and politics were viewed in various parts of the world. The design of the course was quite innovative at the time. All of this was done with the classic iPod and an attached recording device.
What do you love the most about teaching at Marist?
I love the opportunities I have to innovate and to create new cutting-edge courses. I've had the freedom and trust of my colleagues and the administration to be creative and to allow that creativity to come to fruition in the classroom. All of these experiences I'm quite grateful to have been a part of and the creativity and innovation with learning motivates me.
What is a classroom moment that you are particularly proud of?
The best moments are always outside the classroom: the student who writes to you from Spain and remembers a lesson she learned in your class, the student who gets the Fulbright that you helped, the students that present at national and international conferences who have worked with you, the thank you note you get when a student has a life-changing moment in your short-term program. I am most proud when something I did leads to a student believing in himself and accomplishing something he thought was beyond his reach.
What is something most people don't know about you that you'd like a prospective student to know?
I didn't have my life mapped out at any point. I wasn't the student that picked up languages with ease. I followed my instincts, worked hard, and took opportunities when they arose. I studied languages because I was curious about it and not because I had a particular job in mind or it came easily to me. I simply learned what I wanted to and I let the career unfold before me as I followed my curiosities. This process of discovery has kept my life interesting and I continue to learn new things about myself in the world.

Written by Adriana Belmonte '17
---
Profile Tags:
Profile Type: Faculty
Major:
Academic School: Liberal Arts
Campus: New York