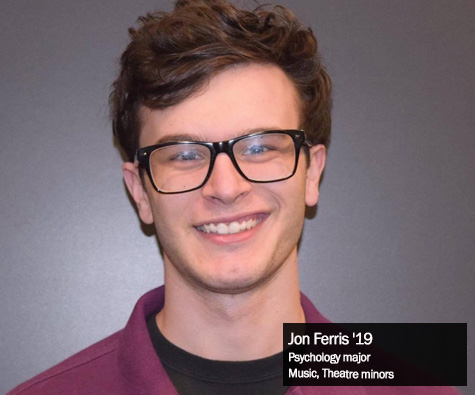 Jon Ferris
Jon Ferris is a second-year psychology major, with minors in theatre and music. Originally from Cumberland, Maine, Jon is very involved in the arts. He plays four instruments and is a member of Marist College Singers and Club of Theater Arts.

How did you end up at Marist after high school?
I spent two years as a full-time Americorps Volunteer and received an education reward after each of those years. Marist is a partner with Americorps that matched the rewards I got. It made sense to go to Marist because of the financial aid package.
How do you feel you have changed after a year at Marist?
So many ways. I think I'm more adventurous now. But also more responsible. It's a weird contradiction. I know how to adventure but how to be smart about it and get the most out of my adventures.
Did you come in with a set major? If so, what appealed to you about the program? If not, how did you decide once here?
I did! I was Pysch/Special Ed but changed to straight Psychology after my first semester because I realized I don't want to be a classroom teacher, and can see myself more as a school psychologist, or a therapist, or counselor or something along those lines.
What is your favorite memory from freshman year?
My involvement with extracurriculars. The clubs I'm in, I think, really shape who I am and my personality. I'm proud to be a member of the clubs that I'm in, and even more proud to have the leadership roles in those clubs.
Written by Sarah Gabrielli '18
---
Profile Tags:
Profile Type: Class of 2019
Major: Psychology
Academic School: Social and Behavioral Sciences
Campus: New York