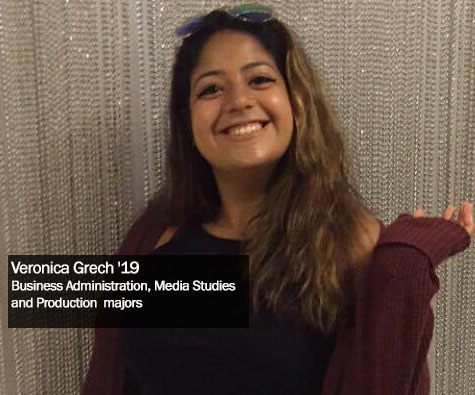 Veronica Grech
Veronica Grech is a double major of Business Administration with a concentration in Marketing and Media Studies and Production with a concentration in TV/Film. She grew up locally, in Beacon, NY and spent the summer working as an Orientation Leader, summer pre-college RA and International Orientation Leader.

As a local, what was your impression of Marist growing up?
My mom works at Marist, so I've literally grown up coming here. I like it because it feels like it actually is my second home which made the transition into college not bad at all.

What surprised you about Marist once you got here?
What surprised me was how much time I had, which made me realize how valuable managing your time is and then all of the clubs and activities Marist has to offer. There really is so much to get involved with.

What was the biggest hurdle of freshman year and how did you overcome it?
My biggest hurdle freshman year was probably finding my group of friends. I'm not really a shy person but coming out of my comfortable bubble and finding new friends made me nervous and a bit timid. I overcame it by joining as many different things as I could and just getting involved. I participated in dance ensemble and made friends there, I did service with Campus Ministry and I went out for a sorority and became a part of Kappa Kappa Gamma. In everything I did, I met new people and gradually I found people I could trust, rely on and really call my friends.

What is the most important piece of advice you would include in a freshman year survival guide?
The advice I would put in a freshman year survival guide would be to always be open to meeting new people and making new friends. You are constantly going to meet people and just because you think you have your group of friends after a month of school it could easily expand, get smaller or even completely change which is totally normal and okay. By getting involved and doing different things, you're going to meet so many different people and make many different groups of friends.
Written by Sarah Gabrielli '18
---
Profile Tags:
Profile Type: Class of 2019
Major: Business Administration
Academic School: Communication and the Arts
Campus: New York