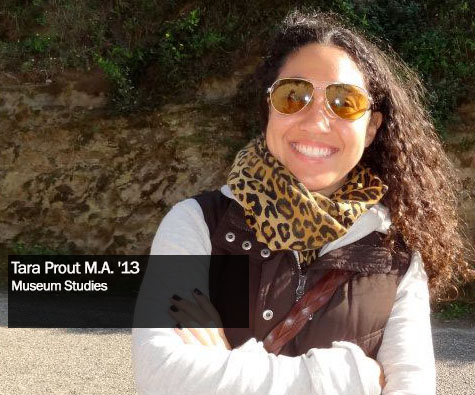 Tara Prout
Name: Tara Prout

Year of Graduation: 2013 (Classes Fall 2011-Spring 2012; Thesis defense December 2012, Degree conferred January 2013)

Previous Education (degree and institution): Georgetown University, BA in Art History

Why did you choose to pursue your degree at Marist/LdM:
I had spent a semester abroad in Fiesole during my junior year in undergrad. I fell in love with Italy and the Tuscan region – the way and pace of life, the food, the people, and the constant immersion in cultural history. After working in NYC for a few years after undergrad, I felt that I needed to go back to school to be able to seriously pursue a career in Museums. I chose Marist/LdM because I wanted to go back to Italy to study Museums and cultural heritage – I felt that there were few better places in the world (if any) to conduct this course of study. I also liked that the class size was small and manageable and that I would be able to receive individualized attention as a student. I wanted to broaden my perspective as an international student and felt that the Marist/LdM program was a smart choice since I'd be able to complete my courses in Italy while ultimately obtaining a degree from a U.S. institution, which I felt would keep me a competitive candidate in the U.S. job market upon return to the States.

Tell us about a project or course that was particularly meaningful to your professional development:
Museums and the Public. I really started to open my mind to the variety of positions and possibilities within the field. It was an excellent way to begin thinking about how Museums engage the public and I appreciated the various field trips around the city to different types of Museums (Natural History vs. House vs. Contemporary Art), guest lecturers and changing topics from week to week. It was extremely intellectually stimulating. Additionally, I appreciated learning from Museum Professionals as well as traditional academic professors. It was great to be able to obtain real-world perspectives from people doing the work in the field, which I found particularly meaningful and useful.

Where did you do your internship?
At the MACRO (Museo D'Arte Contemporanea Roma) in Rome, which was wonderful because I was able to explore another Italian city and extend my stay in Italy beyond my coursework time in Florence!

What type of museum career are you pursuing, or are you planning on earning another degree?
Since graduating I've held two positions in Museums. First, as the Communications Associate at the Parrish Art Museum in Water Mill, New York where I worked on the Museum's in-house marketing and public relations efforts. This included digital communications, press releases, social media, and website strategy and maintenance. I'm currently working on the content side at the National September 11 Memorial and Museum as the Memorial Exhibition Manager. In this role I am working on outreach efforts to help grow and strengthen the Museum's collection as it relates to the Memorial Exhibition, coordinate object rotations in this space, and update profiles as we receive new materials and information. It is my hope to be able to combine my market and communications skills and knowledge to help the collections and content teams achieve their various goals.
Where did you travel during your time in Italy?
I traveled to cities and towns throughout Italy, although I'd love an opportunity to explore Southern Italy and Sicily more! I also traveled to Marrakesh, Berlin, Frankfurt, Kassel, Paris and Dublin.

What was your favorite place in Florence and why?
I lived near Porta Romana and so two of my favorite places were the Boboli Gardens – I was able to enter on the backside and would often go there on breaks to clear my mind and enjoy some greenery. I also loved San Miniato al Monte – the climb up the hill was always extremely rewarding - albeit challenging - the view overlooking the city from the top is something I can still see in my mind's eye! I also loved walking around the medieval church. It was a peaceful, quiet spot in a sometimes chaotic city.

What is your least favorite aspect of living in Florence and why?
Florence is a medieval city and so it can sometimes feel a little tight or crowded, especially during high tourist season. Coming from NYC I'm accustomed to having more space to spread out, so at times the narrow walkways and streets were a bit frustrating to navigate when congested with foot traffic. But I certainly couldn't blame all of the people wanting to see and experience the beautiful and historically important city!

What advice would you give to a student considering pursuing their master's degree at Marist/LdM:
Go for it, but keep an open mind! There are so many wonderful things to learn from this experience that go beyond the fantastic courses, but you will need to remain open to everything and a different way of life. It's challenging both in and outside of the classroom but I think that's one of the most important elements of this program and the one that I feel has given me a tremendous professional advantage upon graduating. Oh, and be sure to take full advantage of all the Italy and Europe have to offer – travel and soak in as much as you can – the train is an excellent place to get your readings done!

How did you hear about our program?
At the time I was searching Master Degree Programs in Italy/Europe and the Marist/LdM program came up in my Google search.
---
Profile Tags:
Profile Type: Alumni
Major: Museum Studies
Academic School: Marist-LdM Florence Branch Campus
Campus: Italy