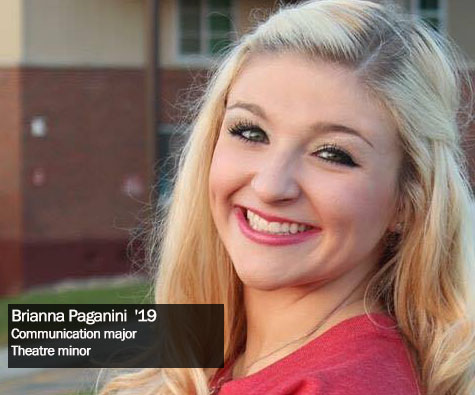 Brianna Paganini
In her first semester on campus, Brianna Paganini quickly became one the most well-known faces at Marist. She smiled from the cover of the Generator Magazine, fresh off of a win for the election of freshman class president. Now, as a sophomore, she continues her study of Communications with a minor in Theatre. She hails from Howell, New Jersey and describes herself as a dedicated member of Marist Ambassadors, Kappa Kappa Gamma, and MCCTA.
What do you remember about your first visit to Marist?
It feels like it was just yesterday! I remember driving up to the campus, anxious yet excited because Marist was my number one. I stepping onto campus for the first time and I instantly felt like I was home. My mom said I didn't stop smiling through the entire information session/tour. I could picture myself walking the campus every day, sitting in the classrooms, and making amazing memories at such a beautiful place. I knew, without a doubt, that Marist was it.
How were you able to find your niche at Marist over the course of last year?
By getting involved in any/every club that interested me. I always kept myself busy, whether that was with performing or helping backstage in a MCCTA show, spending time in the Admissions office, or partaking in smaller clubs and community service events. I also found my niche by finding out what I did not like.
What was your favorite memory from freshman year?
The first real day of spring where the sun was shining, the air was cool and everyone was sitting on Marist Beach. I went with a few of my closest friends to Lola's to get sandwiches and we brought them down by the river and had our own picnic and spent the rest of the day relaxing outside, playing Kan Jam and taking cute pictures. It is one of the most distinct times that I remember feeling so overcome with bliss and was so grateful to be a student at Marist.
What is one piece of advice you want to give to incoming freshman?
Do not be afraid to be yourself. College is a difficult time, especially freshmen year. There are so many major adjustments that are happening at once where it is okay to feel overwhelmed at times. Just remember that everyone else is in the exact same boat as you. Don't be afraid to ask for help or say hello to a stranger. Everyone is looking for some help and few friends, it's the nature of freshman year!
Written by Sarah Gabrielli '18
---
Profile Tags:
Profile Type: Class of 2019
Major: Communication
Academic School: Communication and the Arts
Campus: New York