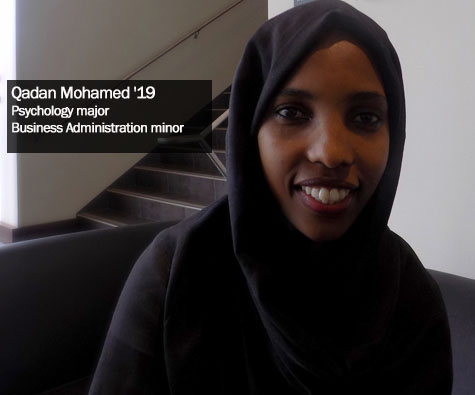 Qadan Mohamed
Qadan Mohamed Brings International Perspective to the Freshman Experience

Qadan Mohamed is a Sophomore at Marist, originally from Somaliland, East Africa. She has traveled all the way to the Hudson Valley to embark on his college journey, the first in her family to do so. She is majoring in psychology and minoring in business.
What made you decide to come to Marist?
Marist's small class sizes were one of the main reasons of why I chose Marist. I like small class sizes because it is a better environment for discussion-based learning, and I learn better in discussions.
What sorts of clubs, sports or activities did you try your first year?
I joined Campus Ministry, BSU, Asian Alliance, and Marist Ambassadors.
What was the hardest thing about freshman year and how did you overcome it?
As an international student, I think the hardest thing for me was my first winter during my freshman year. I was told to layer up, but then my face was freezing cold. After some time it wasn't as bad, though.
What was the best thing about freshman year?
I always wanted to do well in college since I'm the only one in my family who had the chance to reach this far. Getting a 4.00 GPA in my first semester was the best that happened to me because it means a lot to not only me but everyone who supported me to come this far.
What advice do you have for high school junior and seniors considering Marist?
My advice for high school juniors and seniors considering Marist is to maintain focus. There is no benefit in attempting do as many extracurricular activities as your friends if you know you can't balance that and your academics. It is a lot better if you are involved in, for example, two extracurricular activities and actively participate in them as opposed to joining five different things and finding out you cannot do everything.
Written by Shannon Donohue '17
Photo by Sophia Brana '17
---
Profile Tags:
Profile Type: Class of 2019
Major: Psychology
Academic School: Social and Behavioral Sciences
Campus: New York