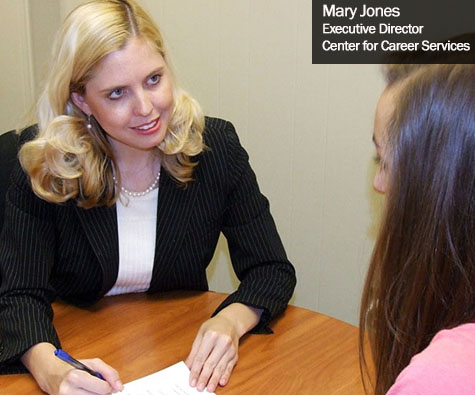 Mary Jones
Dr. Mary Jones is the new Executive Director for the Center for Career Services. Her office is located on the third floor of the library, where she welcomes students seeking career advice. She demonstrates her commitment to professionalism with a firm handshake and neat appearance, as she takes the time to talk about her new position and long-standing passion.
What are your responsibilities as executive director?
I am very excited for my new role at Marist. I serve as the leader and liaison for the Center for Career Services. I am responsible for students all students through career advising appointments, resume reviews, internship guidance and job and graduate school applications. I manage a team of six staff members and we develop innovative career development practices to help Marist students succeed in the competitive global workplace.
With this position, what sort of innovations do you plan to make in the department?
Yes, this role will now be more of an external facing position with emphasis on outreach with recruiters, alumni, and other external constituents. My role will be to really promote the talented students and graduates from Marist to employers in New York City and beyond. I will also work on developing more innovative and creative recruiting strategies to attract more companies to Marist to recruit students. I also hope to partner and collaborate more with faculty and staff as well as student groups.
What are you most excited for this year?
I am excited to be at Marist and learn more about this special college with a wealth of history and talent in the beautiful Hudson Valley. As I mentioned earlier, I am excited to meet with students and cultivate more external recruiter relationships. I am already impressed by the global experiences of the students and I hope to help more students market their experiences to employers so that all Marist students can be even more successful after graduation.
Any specific events?
I am really excited for our Career & Internship Fair next week. It will take place on October 6th from 3-6 pm in the McCann center. All students are invited to participate in this wonderful networking event where they can learn about internships, jobs and future career opportunities in a wide range of fields.
Why are you passionate about helping students develop their careers?
I have always had a passion for helping others. I am from a family of six kids and I started my career helping my siblings succeed in their careers. After doing that as a younger adult I realized that I wanted to have that impact on more students. I continued this passion into college where I pursued a History major at a small liberal arts college. During this experience, I recognized the importance of translating my liberal arts experience into a career and marketing my degree to employers. I learned that I really love to help students succeed in their career pursuits. I feel like I have the best job in the world because I have the fortunate opportunity to make an impact on students every day. There are some challenges because of the competitiveness of the job market for some fields, but I really find it rewarding because I can lead a team that helps students confront those challenges. I also have the chance to work with employers, alumni, and the local community who offer opportunities for students. It is my personal goal to help students navigate the job search process and find careers, like I have, where they wake up excited to come to work every day. Then maybe in a perfect world, they won't look at it as work at all, but rather a passion and calling and a time to contribute their skills and talents to society.
How did you end up in this position at Marist?
I've worked in career services for more than twelve years. I started in Career Services at the University of Michigan at the Ross School of Business, and then managed Career Services at Albion College and the University of New England. I have family in the area and was able to find this wonderful opportunity working and living closer to them, where I could lead Marist to a 21st Century Career Services model.
What has been the most rewarding experience for you?
I had the fortunate opportunity to speak to more than 1200 first-year students during my first week at Marist. This was such a rewarding experience because I was in a room with so much positive energy and talented students where I could share the wealth of career resources offered at Marist. As a result from this event, we have seen more first-year students in our office thinking about their long-term academic and career plans, and they realize the importance of starting the process early and planning for multiple internships.
What is the most important lesson you have learned in the working world that you try to pass on to students?
I have learned that you can never be too professional. I think it is really important to be professional in all verbal and written communications, as well as professional dress and attire. Also, the follow-up "thank-you note" always makes a great impression.

Written by Sarah Gabrielli '18
---
Profile Tags:
Profile Type: Faculty
Major:
Academic School: Campus Administration
Campus: New York