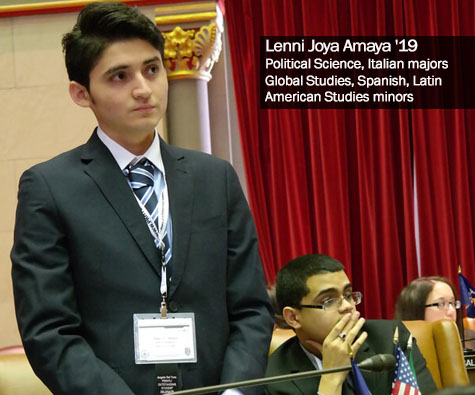 Lenni Joya Amaya
Lenni Joya Amaya travels to Marist from El Salvador
Lenni Joya Amaya, a sophomore at Marist, was born and raised in El Salvador and came to the United States just 6 years ago. He is double majoring in Political Science and Italian, with a concentration in Bilingual Education and a triple minor in Global Studies, Spanish, and Latin American/Caribbean Studies.
Where are you originally from?
I was born in El Salvador, and I moved to Long Island right at the beginning of 9th grade in high school.
What made you decide to come to Marist?
First of all, I was admitted into the HEOP program. This scholarship offered me the financial and academic support I needed. But besides this, I was also amazed by the beautiful views, location, and infrastructure. Also, let's not forget the international programs, something that I'm taking advantage of this fall semester by studying abroad in Argentina. It's one of the best resources offered here.
What sorts of clubs, sports or activities did you try your first year?
I vividly remember being at the clubs' fair the first week. I was writing down my name in almost every club that existed at Marist! But in the end, I became a member of the UN club, Democrats, LGBT, Campus Ministry, ARCO, and Men's Spirit.
What was the hardest thing about freshman year?
Manage my school time with my job and social life. It was difficult to cope with this, but I managed to keep track of all of this with the help of my advisors.
What was the best thing about your freshman year?
I really loved all the new friends I was able to make, people from all over the country and the world. Many of them have become very close friends; amazing people that I considered my very good friends.
Written by Shannon Donohue '17
---
Profile Tags:
Profile Type: Class of 2019
Major: Political Science
Academic School: Liberal Arts
Campus: New York