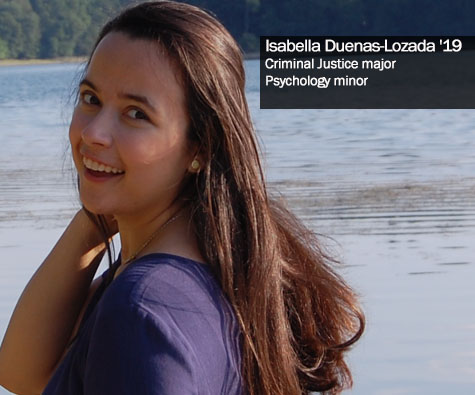 Isabella Duenas-Lozada
Isabella Duenas-Lozada is a sophomore from Somers, NY. She is a major in Criminal Justice and a Psychology minor. She is involved in Marist College's Club of Theatre Arts, Ambassadors, The Circle, Relay for Life, and is the Class of 2019 Student Body President.
Why did you choose Marist?
At Marist, a student isn't just a number; they are a recognized name and face. I would personally rather go to a school where I could walk to class and see my friends while still meeting new people, instead of going somewhere surrounded by complete strangers all the time until I finally saw a familiar and friendly face. It's so easy to build connections and friendships here at Marist with professors and classmates. There are so many opportunities to become involved on campus, and I walk past ambitious student leaders every day. Go Marist!
What is the biggest thing you learned freshman year?
The most important thing I learned my freshman year of college was the importance of being kind. Being kind is so important, especially on a college campus. Almost everyone is stressed out and overwhelmed with academics, activities, and their own personal life situations. Something as little as a smile can make somebody's day a little brighter.
What is something you're looking forward to during your sophomore year?
I am so excited to get to know President Yellen and First Lady Richards-Yellen during their first year here at Marist. As an aspiring attorney and devoted Red Fox, I already look up to this dynamic duo and I am excited to see what they will bring to the college.
Written by Adriana Belmonte '17
---
Profile Tags:
Profile Type: Class of 2019
Major: Criminal Justice
Academic School: Social and Behavioral Sciences
Campus: New York