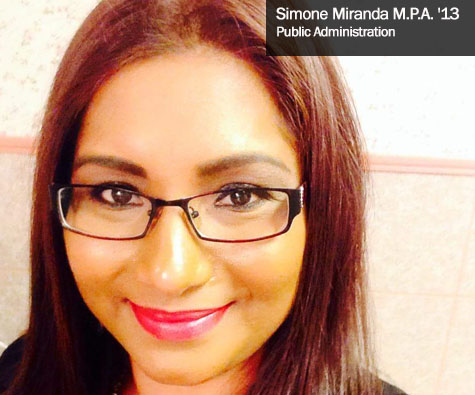 Simone Miranda
Name: Simone Miranda, MPA

Year of Graduation: 2013

Previous Education (degree and institution): BA-Public Policy and Management, Rockefeller College of Public Affairs & Policy, University at Albany. AAS-Computer Programming, LaGuardia Community College.

Current Employer and Position: Schenectady City School District, Community Learning Center Project Manager.

Tell us about your work history before Marist, including years of experience, industry, companies, and positions:
Prior to attending Marist's Graduate School, I was employed with the City of Albany as their Webmaster where I managed the City's website as well as working in Human Resources conducting various personnel administration. I was promoted to Personnel Technical Aide in which I continued to manage the City's website, conduct various personnel administration, handle employee benefits and recruitment, civil service and many other personnel transactions within the City.

What are your career goals?
My career goal is to continue to be in public service and dedicate my skills and knowledge to better serve the community and/or clientele in which I am employed.

Why did you choose to pursue your degree at Marist?
Pursuing a Master's in Public Administration has always been an academic goal of mine. I choose Marist because of the flexibility and schedule. I knew co-workers that were in the program and they expressed how happy they were with the MPA program. It was also an opportunity for personal and professional growth.

Tell us about a project or course that was particularly meaningful to your professional development:
During the MPA program, I took a class called "Management in Nonprofit Organizations" and the professor had enormous experience in nonprofit organizations. She was actually a founder of a nonprofit organization that focuses on Lean Management. This class really took me on a path that made me look at nonprofit organizations through different lenses and this process really challenged my ability to apply theories and practices to real life circumstances. As a result of my experience not only with this class but all my MPA classes, I did my final Capstone project based on Lean Management tailored for the City of Albany. This was truly an academic enlightenment that showcased my ability for originality and creativity. As a matter of fact, I was invited to be a guest on a radio network to discuss my capstone paper on Lean Management!

How has a degree from Marist and your course work enhanced your career?
After obtaining my MPA degree, I was hired as the Human Resources Specialist at the Schenectady City School District. Recently, I was promoted to my current position with the Schenectady City School District. My MPA degree gave me the knowledge to become a more strategic leader, the confidence to know that I have the tools needed to advance in my field, and the motivation to be more innovative as I progress in my profession.

What advice would you give to a student considering pursuing their master's degree at Marist?
My advice to prospective students is that there are many positive aspects to pursuing your graduate degree with Marist. Do the research and weigh the pros and cons before you make this life altering experience. In my own experience, I was able to make a better decision after talking with fellow alumni of the program and doing the research through the Marist MPA website.

If you took an online class or had online learning as part of a regular course, tell us about your experiences – any tips or suggestions to pass along to future students?
I took a few online courses through the MPA program and it is different based on the class, however, it does require the individual to be self-disciplined, motivated and be able to manage time. I enjoyed the online classes because it provided me the ability to engage with students in different cohorts from various locations. It allowed me to work with these students who I would normally not have the opportunity to work with if I was in a traditional classroom. This diverse learning experience is resourceful and demonstrates your ability to collaborate with colleagues from multiple locations through group projects. There are minimal negative aspects to online classes but you must be prepared to handle curve balls. One of my challenges were not knowing the individual's ability to perform or be responsive. During group projects, this could be a hindrance, but I continued to communicate with the other students and redirected tasks so we can all have the project completed on time.

Please feel free to provide additional comments:
I held off on pursuing my MPA degree because I wanted to gain work experience in public administration. This was helpful to me while attending Marist because I met other professionals in public administration and we all share similar passion and experiences in this field. Engaging with others in a cohort designed for public administration careers was beneficial to the program because we all brought a variety of essential pieces to connect to the material. The ability to latch on to others connectivity and build from that was meaningful and relatable to the coursework.
The brilliance of employing professors that were employed in the field of the coursework being taught was merely distinctive because they were able to present the material in a way that peaked our interests. I met some really wonderful colleagues who are now close friends of mine. During the program we all came together, supported and helped each other in some way throughout this journey. Lastly, the staff (professors and support staff) at Marist were always helpful and assisted me with any questions or concerns.

---
Profile Tags:
Profile Type: Alumni
Major: MPA - Public Administration
Academic School: Management
Campus: New York