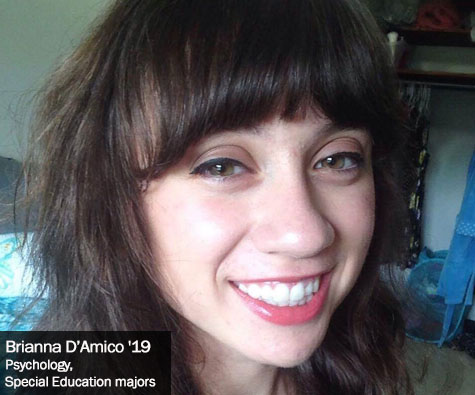 Brianna D'Amico
Now starting her second year at Marist, Brianna D'Amico is a Psychology/Special Education major from Sayville, New York. Brianna keeps herself busy in the music department. She is one of the few students that balance participation in both orchestra and choir.

What was the biggest change for you going into freshman year and how did you deal with that?
The biggest change for me was definitely being away from my family since I had never been on my own before. I ended up really enjoying all of the freedom and getting to make my own choices all of the time. The most difficult part about that was having to learn time management on my own. In the beginning of the year, I would stay up all night because I realized I could go to bed whenever I wanted.
How do you think you have changed from freshman to sophomore year?
I have definitely become more confident to try things I normally would have been too shy to try, like auditioning for shows the theater group puts on. I realized I shouldn't look back after four years and wish that I tried something I didn't.
What is one piece of advice you would give to incoming freshman?
One piece of advice I would give is to try your best to go with the flow, even when it is difficult. Life and people are always changing in college, and you can't let that upset you or throw you off because there are so many great things going on in college. Also, focus on broadening your horizons instead of letting negativity bring you down.

Written by Sarah Gabrielli '18
---
Profile Tags:
Profile Type: Class of 2019
Major: Psychology
Academic School: Social and Behavioral Sciences
Campus: New York