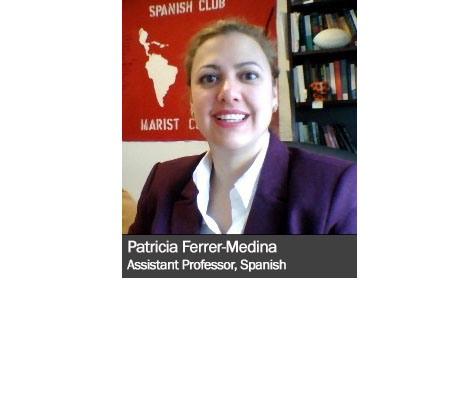 Patricia Ferrer Medina
Dr. Patricia Ferrer is in her seventh year teaching in the School of Liberal Arts at Marist. She teaches all levels of Spanish language, Latin American literature and culture, and several First Year Seminar classes.
What generated your interest in the Latin culture? Do you have a Latin background?
I was born and raised in Puerto Rico. I was not as interested in my own culture as I was in the way that conceptualizations of ecology, race, class, and gender intersect with colonial conditions in Latin America. As I gained more experience, I realized that in order to share my ideas, I first had to share the language, literature, and culture that serve as home to those ideas. In addition, there is a growing need in this country for Spanish language and Latin American culture education, so, I decided to focus on that.
How did you get involved with teaching at Marist? What do you love the most about teaching here?
For a graduate student at Rutgers University about to graduate with a Ph.D. in Comparative Literature, Marist was very attractive as a place of employment. The location of the college in the Hudson Valley and within a short distance from NYC makes it ideal for dedicated study and research. More importantly, Marist's energy and mission to offer a global education and to promote civic and global engagement means that there is room for me to develop my own projects and to pursue my teaching and research interests. I felt that, at Marist, I could decide which way to grow in my chosen profession.

What are your favorite kinds of students to teach?
I love teaching students who listen and allow me to draw them in with my stories and students that trust me enough to lead them through the language and culture learning process.
How many languages can you speak?
I can speak Spanish and English really well. My spoken French needs work, but I can read it proficiently. I can read other languages such as Italian, Portuguese, and Latin with some fluency. (I can't wait to have the time to improve my skills in these languages and to learn German!)
What is your favorite part about teaching at Marist?
Marist is small enough so that it feels like a big family but big enough to be able to always meet new people and find new ways to connect and collaborate.

Why should a student major in Spanish, or at least learn the Spanish language?
If you have your eye on the future and are reasonably informed about the present, you must be aware that you need an education that is focused on communicative and intercultural skills, that allows you to find your own voice, and that affords you the confidence to apply a flexible and creative outlook toward life and the workplace. A Spanish major is designed to do just that. Many students recognize this and pursue it as a major, a double major, or through a shorter sequence of courses with the purpose of becoming bilingual or multilingual.
What is your favorite classroom moment or something that you're exceptionally proud of from a teaching perspective?
I am especially proud of my students when they present their own projects. Then, I can see their interests and passions; I can appreciate their unique voice. I am also very proud of alumni that keep in contact with me by sending letters and photos of what they are doing. Some of my students have gone on to conduct research in Peru with a Fulbright Scholarship, or they have traveled to Colombia, Spain, or Korea to teach English, or they serve as agents of change in the local community. Many other alumni have pursued graduate studies in different fields in which their language skills help them excel. I am honored they remember me and I love to hear their stories.
What is one thing about yourself that you would like a prospective student to know?
What I would like a prospective student to know about me is this: I will work with you. From the moment you sign on to the Marist experience you have me, and many others, rooting for you and ready to assist. There is no need to worry about your prior language experience. I will meet you where you are and together we'll design a path for your next four years.
What is something that you hope your students take away from their time working with and learning from you?
I hope that my students learn to ask questions. Many times students are more concerned with learning answers than with honing their questioning. A critical, incisive question can lead to new discoveries and new connections.
Written by Adriana Belmonte '17
---
Profile Tags:
Profile Type: Faculty
Major:
Academic School: Liberal Arts
Campus: New York