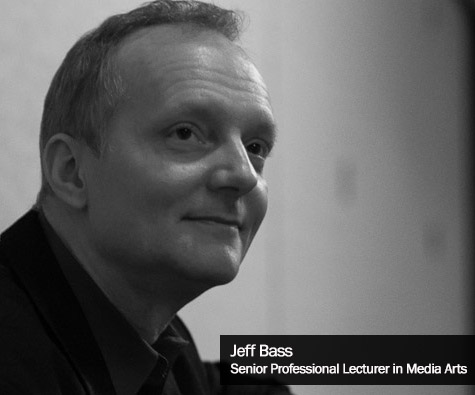 Jeff Bass
Professor Jeff Bass is in his 13th year teaching at Marist. His classes include Video Production, TV Production, and Filmmaking, along with post-production, editing, and avid certification classes.

What generated your interest in Media Studies? Did you always know that you wanted to teach it growing up?
I'm more of a media production person, but I do some research and conference presentations. I started off as a fan and a consumer. I loved watching movies and television. I began to realize that there is someone who makes these shows and movies so I realized that there was a possibility I could get involved as well and make a career out of it. Growing up, teaching was the farthest thing from my mind. When I was younger, I wanted to make movies and television shows. Teaching came along a little while later. I've directed for the stage as well as the camera and I've realized that directing is kind of like teaching. You have to get people to see your vision and move in the same direction. After years of directing, people told me I would be a good teacher.
How did you get involved with teaching at Marist? What do you love the most about teaching here?
After I earned my second Master's degree, I needed a job. I was in Chicago at the time and I saw an advertisement in the Chronicle of Higher Education, so I decided to apply. I came here in January when the campus was frozen over, but it was not much worse than Chicago. It's been working out very well ever since.
For your underclassmen students that you teach, do you use a specific teaching approach to help them better adjust?
I do my best. I figure that people are taking my classes as pre-professional classes. I assume that when they take my classes they don't just need an elective. I assume that they really want to work in the profession. I try to bring as much of that into the classroom and the way I teach the class as possible. I can be rather demanding and uncompromising in my classes. If I think a student is doing less than their best, I tell them bluntly but I'm still reasonable. In the professional world, you have to prove your value and worth, so I try to make my classes like that.
For both your underclassmen and upperclassmen students, how do you connect your material to real-world issues?
I bring up things all the time that happened to me when I was still in the industry. I have a lot of stories about things I did that were both good and bad, things I learned by experience. I'm trying to save my students from making those mistakes. There is a certain amount of trial and error to learn from but I'm trying to minimize the number of mistakes for them and want them to learn from my experience.
What is your favorite part of the Marist community, especially the students?
I like the students who are interested in the subject and show up to learn. There are a great many people like that here at Marist. They come here because they want to learn and know they are entering a very competitive discipline. They know they will have to be something special to rise above the crowd and work in the industry. They appreciate the things I do in my classes and know that it is an effort to give them an advantage. When they acknowledge that, their thinking is that I'm tough and classes aren't easy, but there's a good reason for it all.
Why should students take an interest in media studies? How does Marist's media studies program stand out from others?
It's a competitive field; they shouldn't take an interest unless they know it's competitive and that they have an uphill climb. What makes us stand out is our internship program, our proximity to New York City, and our relationships with the professional world. Everyone knows what you're talking about when you mention Avid, and we have that certification here. We have many things that create a connection between our program and the professional industry.
What is your favorite classroom moment or something that you're exceptionally proud of from a teaching perspective?
The Avid certification program is one of my biggest accomplishments, along with the Silver Fox Awards, which I've been doing every year since I got to Marist. The media students look forward to it every spring, having their work screened in front of a live audience, and possibly winning and getting some recognition for their work. I'm also very proud of the brand new Adobe program. Only seven students completed the Adobe certification in its first year who already had an Avid certification. Now, it makes them extremely competitive on the job market. I'm very proud of those things.

What is one thing about yourself that you would like a prospective student to know?
I've spent 14 years making my living in the industry. It's paid the bills, kept a roof over my head, and put food on the table. I've done production work, television, and even live theater. It gives me a different perspective from someone who is a lifelong academic. When you're living in the industry, you have to produce and make yourself valuable to others. You have to prove your value every day. I've been there and done that. It puts me in a good position to help students do that as well.
What is something that you hope your students take away from their time working with and learning from you?
I hope students know that I don't enjoy making their lives difficult or taking away points when they turn in poor work. I think it's more beneficial for them when I'm honest. Ultimately, what they do in school is not as important as what they do in the industry. I don't like criticizing work. I like to make students feel good but that's not what I'm here for. I'm here to help students get better.

To read more about the Avid and Adobe certification classes, and other news from the School of Communication and the Arts, visit our Campus and Classroom News page.
Written by Adriana Belmonte '17
---
Profile Tags:
Profile Type: Faculty
Major:
Academic School: Communication and the Arts
Campus: New York