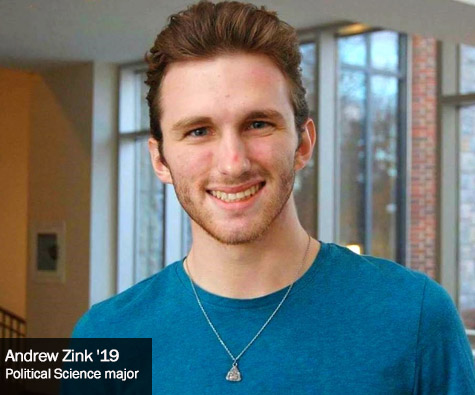 Andrew Zink
Andrew Zink is a sophomore from Pine Bush, NY, who majors in Political Science. He is involved in Marist Democrats and the Black Student Union and is an intern for Democracy Matters, trying to start a Marist chapter.

What is the biggest lesson you learned from freshman year?
Go to a lot of different clubs and events. Making new friends with unique passions of their own is important for a constructive college experience.
What are you most looking forward to over the next few years at Marist?
I am looking forward to meeting even more passionate people and expanding my own worldview.
What is the biggest piece of advice you would give to an incoming freshman?
Be as kind and nonjudgmental as you can. Everyone is still figuring themselves out and finding their place at college. Just be a nice person and give everyone a chance.

Written by Adriana Belmonte '17
---
Profile Tags:
Profile Type: Class of 2019
Major: Political Science
Academic School: Liberal Arts
Campus: New York