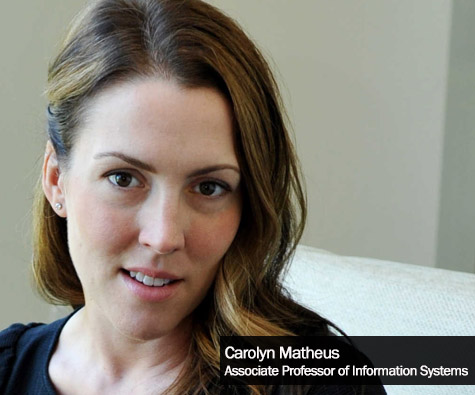 Carolyn Matheus
Carolyn Matheus Encourages Out of Classroom Experiences for Information Systems Students
Carolyn Matheus is an associate professor of Information Systems in the School of Computer Science and Mathematics. She teaches Systems Analysis, Systems Design, a First Year Seminar on social media, Capping, and a few graduate courses as well. She is also an internship coordinator for the School.

What's your favorite part of teaching at Marist?
I'm a Marist alum, so one thing I love about it is that it's kind of my home. I also like the vibe of the students here, too. It's rare that I get a student who's not into learning. I like that people are excited to be here and interested in collegiate education and very friendly.

What does being an internship coordinator entail?
Well, we start with students when they first come in as freshmen and help them build their resume. We talk to them about how it's not something you magically produce your third year of college; it's something you have to work on all four years. We also talk to them about interviewing skills and how to reach out to employers. We keep in touch with a lot of companies and graduates who tend to come back and recruit. Some companies our students have interned at include Google, Facebook, Major League Baseball, and on the corporate level Morgan Stanley, Goldman Sachs, and we also have a great partnership with USAA and a lot of startups.

Are there any special projects or events happening in the School that you're involved in?
For quite a few years, I've run a short-term study abroad program for technology students. I take a class to the Dominican Republic every summer and we do a technology summer camp for junior high kids down there. We live in the town and we do the camp every day at the school, and we also go on excursions and do fun things like surfing and snorkeling too. It's a neat program. (To read more about the Dominican Republic service learning program, visit the School of Computer Science and Mathematics website.)

What advice do you have for incoming students interested in this particular field?
My typical advice is to think a lot about not just what they're good at, or what their parents or peers tell them to major in, but what actually gets them excited. I'm really big on people following what they're passionate about. So I really encourage students to take some time and find what they'll enjoy, not just what they're good at.
Written by Shannon Donohue '17
---
Profile Tags:
Profile Type: Faculty
Major: Information Technology
Academic School: Computer Science and Math
Campus: New York