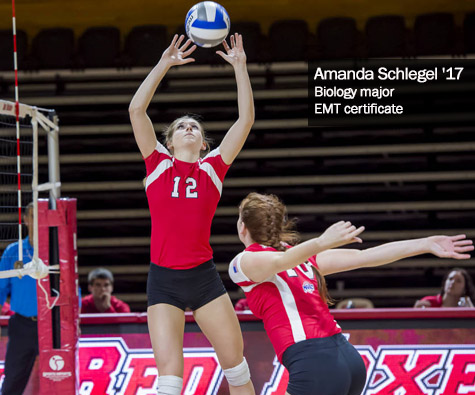 Amanda Schlegel
Amanda Schlegel knows how to balance her time. A senior at Marist from Austin, Texas, Schlegel majors in biology while also playing for the Marist volleyball team and interning for the Fairview Fire Department as an EMT.
It began sophomore year when she signed up for an EMT course offered by Marist. Since the EMT certification would fulfill requirements needed for the graduate school program that Schlegel would like to attend after graduation, she figured it was the perfect opportunity to complete it.
The class entailed a series of lectures, practicals and lab classes, pharmacology, respiration labs, and more. Once she completed the course, Schlegel was certified to be an EMT in the state of New York.
In the fall of 2015, Schlegel began interning as an EMT for the Fairview Fire District in Poughkeepsie. Schlegel is able to set her own schedule and completes five to eight-hour shifts each time she comes in.
She has seen her share of injuries – one of the calls she responded to involved a man hit by a car, which Schlegel described as the "worst" she's ever seen – but it is a part of her job at Fairview.
"I love the environment and the group of guys that work there," she said. "I'm one of two women there, so it's mainly just a fun group of guys. They're a great support network and they're are willing to help me and encourage me to get better."
Schlegel balanced working for Fairview while also playing as a setter for the Marist volleyball team. She had practice every day, lifts twice a week, and a game every week. Ten of these games involved travel. Still, this did not deter her determination.
"I like the competition a lot," she explained. "To have that outlet is nice. The team is amazing."
Competition is nothing new for Schlegel. Growing up, she did "every sport under the sun," as she put it. It was when she was around 10 or 11 years old when she tried volleyball and realized how much she liked it. Since then, she never looked back.
Team manager Rachel Danko '17 described Schlegel as "amazing" and someone who knows how to balance things well. "She is passionate about everything she does and when she does something, she gives it her all," Danko said.
"I have no idea how I balanced it all," she said. "Other students do it too. I guess the key is staying on top of my schoolwork."
Education is very important to Schlegel, especially because she "always" knew that she wanted to go into the medical field. "It's one of the most interesting topics out there," she said.
Schlegel's plan is to take a year off and work as an EMT in Boston. From there, she wants to attend graduate school to become a physician's assistant and ultimately work in a trauma/emergency room.
"I'm keeping all of my options open," she said with a smile.
Written by Adriana Belmonte '17
---
Profile Tags:
Profile Type: Alumni
Major: Biology
Academic School: Science
Campus: New York