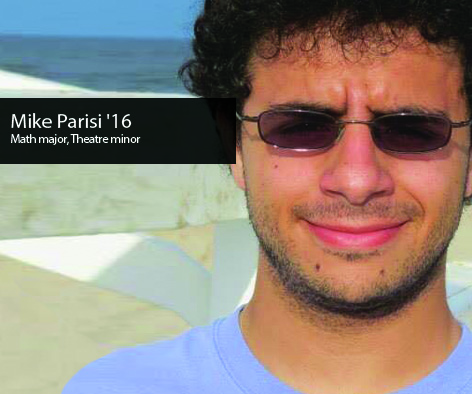 Mike Parisi
Senior Mike Parisi is a Math major with a minor in Theatre. He is from Cheshire, Connecticut and spends his free time pouring over puzzles, cooking, and singing. In his last semester at Marist, Mike talks about his experiences and what he has learned in the past four years.
How did you end up choosing Marist?
I chose Marist because I got that "I'm Home" vibe when I first walked on campus. That and everyone I met was smiling and happy to be there. It's hard to not pick a school when it makes you smile. After my first visit, I didn't want to look anywhere else because I found my next home.
What Marist event do you most look forward to every year?
I look forward to accepted students day every year. Since my freshman year, I have loved interacting with potential incoming freshman and helping influence their decision. It is one of the most rewarding things to hear the next year that people chose to come to Marist because of that day and how the school embraced them. That, and I get to make a fool of myself in front of thousands of people. IT'S GREAT!
What piece of advice would you give to incoming freshman?
I would tell incoming freshman to try and always keep a positive attitude. College is only how you want it to be so why not make it the best four years of your life?
Written by Sarah Gabrielli '18
---
Profile Tags:
Profile Type: Alumni
Major: Mathematics
Academic School: Computer Science and Math
Campus: New York