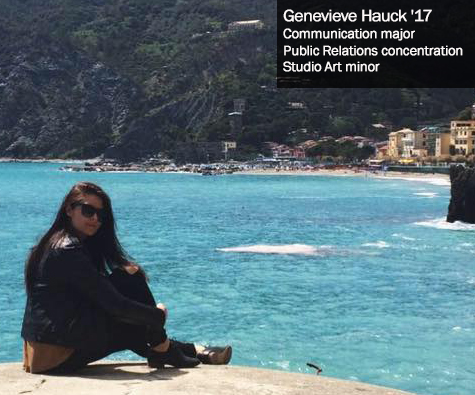 Genevieve Hauck
Genevieve Hauck is a senior at Marist with an interest in public relations and studio art. She has studied abroad at the Marist-LdM campus in Florence, Italy and hopes to use this experience to help launch a career in the arts industry after graduation.
What is your major/minor?
My major is Communications with a concentration in Public Relations and my minor is Studio Art. I went into this field because I used to participate in business competitions in high school and my role was Public Relations oriented. I have studio art as my minor because I wanted to use my communications degree in museums and the arts industry.

What was your favorite part about your Marist experience?
My favorite part was definitely going abroad to the Italy campus. My house was 20 feet from the Duomo! In addition to the experience being amazing, the Marist study abroad program and staff made the transition from the U.S. to Italy incredibly smooth.

What are your future plans?
My plans are to graduate in May and hopefully go back to Italy to get my graduate degree in Museum Studies at Marist-LdM. If that's not possible, I'll stay at my current internship with the Metropolitan Museum of Art and hopefully work there in the future.

Any advice for incoming students?
My advice would be to take advantage of all the opportunities sent your way, especially the study abroad program here. Four years will go by fast, but in those four years, you'd be surprised what you can accomplish.
Written by Shannon Donohue '17
---
Profile Tags:
Profile Type: Alumni
Major: Communication
Academic School: Communication and the Arts
Campus: New York