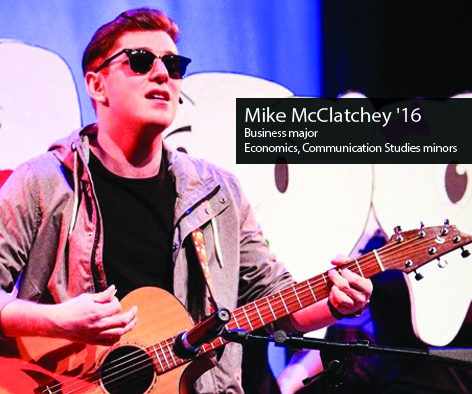 Mike McClatchey
Mike McClatchey is a Business major with a concentration in Finance, and a double minor in Economics and Communication Studies from Freeport, New York. He is a member of various business clubs such as Beta Alpha Psi and the Investment Club, as well as Singers and WMAR. Mike also has an on-campus job with Accommodations and Accessibility as a Student Proctor.
How did you know Marist was right for you?
When I visited again in April for accepted students' day, I fell in love. It was a beautiful day, all the trees were green and "Marist Beach" was in full effect. Being on campus that day felt so right. I made my decision that day that I was going to attend Marist.
How has Marist prepared you for your desired career path?
Career services is a fantastic resource. They've torn my resume apart and made it stronger than ever. My classes—especially Investment Analysis—have given me all the skills that I need for a career in finance. Additionally, the various business-related clubs, such as Beta Alpha Psi and the Investment Club, have awesome presentations and bring really great people involved in the industry to speak at Marist.
What's one of your favorite things about Marist?
Aside from the gorgeous sunsets, incredible architecture, the beautiful foliage— it's hard to pick just one favorite thing. But I'd have to say that my favorite thing about Marist is the size of the campus. Not only is it easy to walk from one side to the other, but in the process, I see so many of my friends. It's incredibly easy to see your friends several times a day (which is great), but there are enough people at this school where I'm constantly meeting new people.
Any advice for incoming freshmen?
Say yes to everything! Whether it be pulling an all-nighter with some friends in a class, waking up early to watch the sunrise – I've made so many memories and met so many great people by saying yes and going outside of my comfort zone.
Written by Emily Belfiore '16
---
Profile Tags:
Profile Type: Alumni
Major: Business Administration
Academic School: Communication and the Arts
Campus: New York