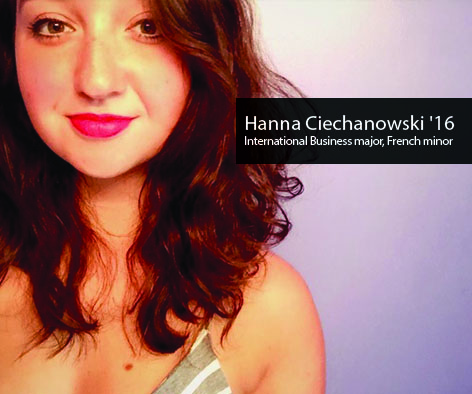 Hanna Ciechanowski
Hanna Ciechanowski is an International Business major with a minor in French. She was inducted into Beta Delta Sigma in the Spring and is involved in the Marist College Club of Theater Arts. She also spent her junior year studying abroad in Dublin.
How has Marist helped you prepare for your desired career field?
The faculty and staff at Marist have been amazing; they have given me enough guidance and knowledge to better prepare myself for the real world. I have developed so many skills and have become very immersed in the field. During my time at Marist, I was also able to study abroad and implement that experience into my career by giving me a more well-rounded outlook on the world.
How has being a part of the Marist College Club of Theater Arts impacted you?
Since it's so much different than my major, M.C.C.T.A has become a great creative outlet for me. It started as a way to get away from the studious side of being in school and quickly became a productive and fun way to get involved in the Marist community. I've made so many good friends through this club and I have so many amazing memories from being a part of all the productions.
How do you feel you have changed since freshman year?
I definitely feel like I am more confident, especially when it comes to what I want to do with my life. I was Undecided as a freshman and I remember feeling so unsure and confused because I didn't know what I wanted. Now I know I have what it takes and that I will succeed.
Written by Emily Belfiore '16
---
Profile Tags:
Profile Type: Alumni
Major: International Business
Academic School: Liberal Arts
Campus: New York