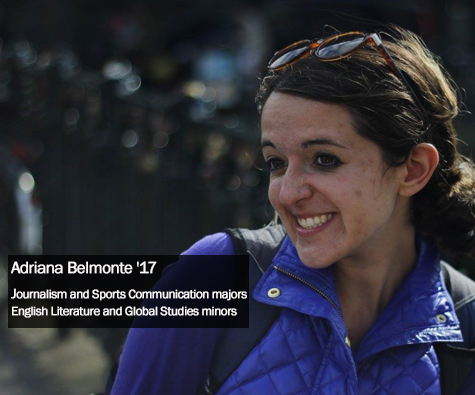 Adriana Belmonte
Adriana Belmonte is from Union, NJ and a senior at Marist College. She is the President of Marist College Democrats, Vice President of the Society of Professional Journalists, and News Editor for the Marist Media Hub. She is a Communications major with a dual concentration in Journalism and Sports Communication and a double minor in English Literature and Global Studies.
What is the highlight of your past three years at Marist?
It would definitely be studying abroad at Marist-LdM in Florence, Italy, for the spring 2016 semester. Not only did I make friends from all around the world but I also learned things I didn't even think were possible. I realized how much I loved to travel to new places. I went to 10 different countries in a span of four months! I recommend everyone studying abroad if they can make it possible.
What internships have you done or are planning to do?
Last fall, I interned for both Hudson Valley Magazine and Staatsburgh State Historic Site doing communications work. It was a great way to get my foot in the door. This summer, I did a remote internship for a company doing SEO/Content Writing, which really helped me to sharpen my writing skills. For the fall semester, I've accepted an internship as a Reporting Intern for the Poughkeepsie Journal and I cannot wait to start!
What's the best part about being a senior?
The knowledge that I've gained over my college years. I've learned so much since my first day as a terrified freshman and now, I can say that I'm going to graduate as a confident young woman ready for whatever lies ahead of me.
Any advice for incoming students?
Get involved, go out of your comfort zone, and don't be afraid to fail. It's all part of the college experience.
---
Profile Tags:
Profile Type: Alumni
Major: Journalism
Academic School: Communication and the Arts
Campus: New York