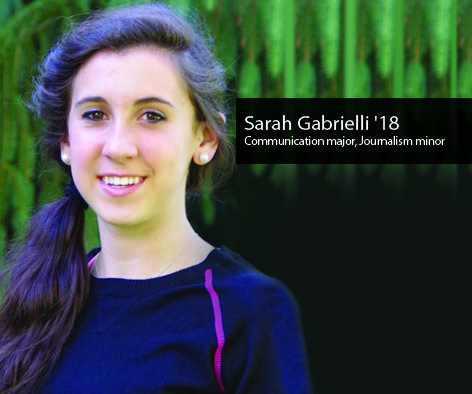 Sarah Gabrielli
Sarah Gabrielli is a senior student in Marist's Communication's program. Specifically, she studies journalism with minors in political science and criminal justice. During the fall semester, Sarah pursues these interests in the Washington Semester Program at American University. When at Marist, she contributes to The Circle, Society of Professional Journalists and as a student journalist for Marist's Office of Undergraduate Admission.

After graduation, what do you think you will you miss the most about your time at Marist?
I think I will really miss being a student in a Marist classroom. I have been part of three really incredible programs here (communications, political science, and criminal justice) and I will truly miss listening to such brilliant professors, hitting up their office hours and forging relationships with them. I feel like there is so much more to do and so much more to learn!

What do you wish you knew, going into your freshman year, that you can pass on to incoming students?
First of all, ALWAYS get lunch at the Valley Cafe on Tuesdays while you still have unlimited swipes. Get 50 cent refills from the on-campus coffee shops. Bring a bike to campus because you will get to class in a fraction of the time and look cool doing it. On a more serious note: dare to be different. Just do it.

Do you feel prepared for the working world? How so?
I actually feel pretty ready to take on the working world. Marist has indirectly set me up with some awesome opportunities to experience it already. This summer, one of my professors helped me to get an incredible internship and now the Washington Semester Program is giving me even more exposure.
---
Profile Tags:
Profile Type: Class of 2018
Major: Communication
Academic School: Communication and the Arts
Campus: New York