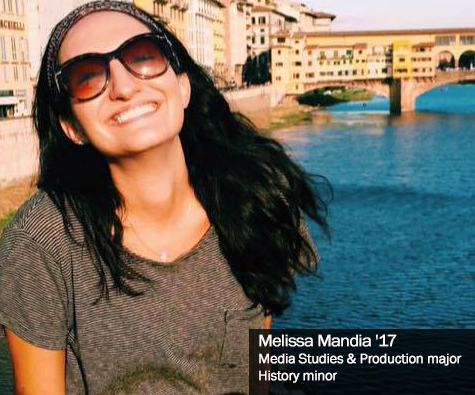 Melissa Mandia
Originally from Franklin, Massachusetts, Melissa Mandia '17 is a Media Studies & Production major with a History minor. Melissa is very active within her major, as well as in the Marist College Club for Theater Arts.
What was your first impression of Marist?
Although I was sick and it was a gloomy day, my first impression of Marist was an overwhelmingly positive one. I loved the architecture of the buildings and how self-contained the campus is. I also had a great tour guide who spoke highly of the theater program and study abroad options. My parents and I came to tour Marist on a whim but left convinced this was the right school for me.
What has been your most memorable part of your time at Marist?
The most memorable part of my time at Marist is the Shakespeare in London attachment program. The trip was perfectly planned by Prof. Grinnell who knew exactly how to divide up our two weeks in London and Stratford-upon-Avon between seeing several Shakespearean productions and sightseeing classic English attractions. And as a bonus, I met people who would go on to become my best friends!
What is one thing you wish you knew freshman year that you want to pass on to incoming students?
In retrospect, I wish I didn't put so much pressure on myself to adjust to college so quickly. It took me a while to transition and feel comfortable and I always felt like I was doing something wrong; I think everyone goes through this stage but some people are better at faking it than others. I would tell incoming freshmen to give it time, don't take anything too seriously, and get involved in something that you love as soon as possible because that's the most promising way to meet your people.
Written by Sarah Gabrielli '18
---
Profile Tags:
Profile Type: Class of 2017
Major: Media Studies and Production
Academic School: Communication and the Arts
Campus: New York