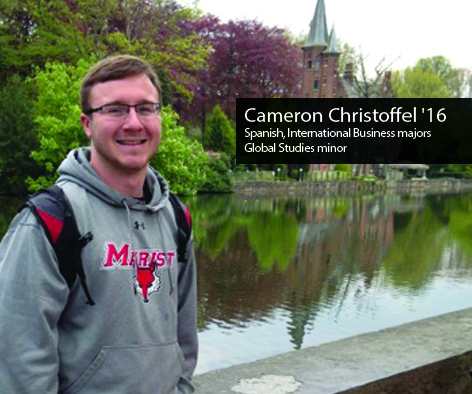 Cameron Christoffel
Senior Cameron Christoffel hails from Greece, New York, and is a double major in Spanish and International Business with a minor in Global Studies. He is a student employee and language coach at the Weiss Language Center, the social media specialist for Languages at Marist, an intramural referee for Dodgeball and Softball, and the President of Marist College Toastmasters.
What made you choose Marist?
I chose Marist after having attended the pre-college Spanish program with Dr. Gaugler the summer before my senior year of high school. I was blown away with how beautiful the campus was. After experiencing the classroom setting, building those preliminary friendships, and learning about Marist's highly ranked study abroad program, I decided that I had to attend Marist.
How has Marist helped you explore new cultures?
I've worked all four years for the Modern Languages department and in that time have met interesting students from an array of varying cultures. My sophomore year I lived in a housing group representing 8 different nationalities and in my junior year, I did a year-long study abroad experience in Madrid. While there, I was deeply exposed to the Spanish culture while also building friendship and relationships with students from all over the world.
What would you like to do after you graduate?
I would like to find a job in International Marketing that will allow me to highlight my language and interpersonal relationship skills for communicating with other cultures. Anything where I can be traveling and meeting new people.
Written by Adriana Belmonte '17
---
Profile Tags:
Profile Type: Alumni
Major: Spanish
Academic School: Liberal Arts
Campus: New York