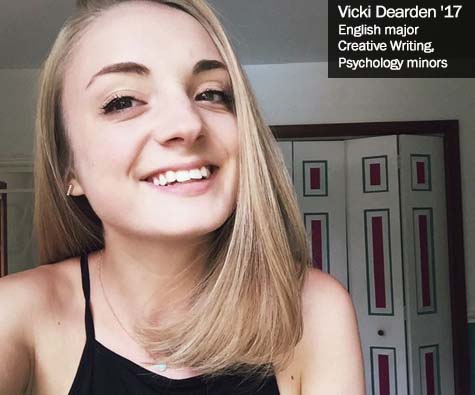 Vicki Dearden
Vicki Dearden will be graduating in the Spring of 2017 with a bachelor's degree in English along with minors in Psychology and Creative Writing. She comes from Washington Crossing, Pennsylvania, a small town outside of Philadelphia.

Describe your first trip to Marist.
My first trip to Marist was actually pretty funny. I had been college road tripping with my mom and I was so sick of being with her all day long and Marist was our last stop for the day. She absolutely loved it but I was in a mood where I wanted to disagree with her about everything so I told her it wasn't that great and I didn't care much about it. Then, when I got accepted I was so excited and wanted to go immediately but my mom didn't believe me!

How did you end up as an English major?
I've known I've wanted to be an English major since the eighth grade when we read a Tree Grows in Brooklyn and it was one of the first books I had strong opinions about. I was in an environment where my teacher really let us disagree with her and speak our own minds about what we were reading.

After graduation, what do you think you'll miss the most about life at Marist?
I'm definitely going to miss the campus itself and the Hudson Valley. I love being a short walk from the boathouse and all of the time spent sitting outside with my friends during the Spring.
Written by Sarah Gabrielli '18
---
Profile Tags:
Profile Type: Class of 2017
Major: English
Academic School: Liberal Arts
Campus: New York