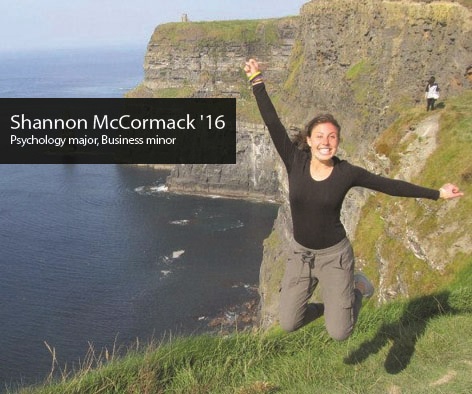 Shannon McCormack
Shannon McCormack is a psychology major with a business minor from Clifton Park, NY. She is the President of Habitat for Humanity, the Vice President of the Class of 2016, the manager for the football team, and a member of the Dance Ensemble.
Why did you choose Marist?
There wasn't doubt in my mind that Marist was the right fit for me. I could see myself succeeding as a student and a person. I felt extremely comfortable on visits. It's a smaller institution with familiar faces but has a lot to offer its students.
Why should someone get involved in Habitat?
Habitat For Humanity is a unique organization. The work we do helps provide families with homes that they're able to call their own. Within whose walls they can grow, learn, and make memories. You're able to see with your own eyes what you're contributing to Habitat's mission, something that's extremely motivating and satisfying. There is nothing comparable to what you experience with Habitat!
How has Habitat impacted your time as a Marist student?
I could go on forever about the impact Habitat has had. The other students I have met along the way are more like family than friends. The Habitat employees and homeowners that I've had the honor of working with are so gracious and inspiring. Most importantly, my involvement in Habitat has proved to me that I am bigger than myself. What I do, how I act, and what I say has the potential to change something, someone, the world. For this, I thank my freshman self every day for taking those three seconds to sign up with Habitat.
Written by Adriana Belmonte '17
---
Profile Tags:
Profile Type: Alumni
Major: Psychology
Academic School: Management
Campus: New York