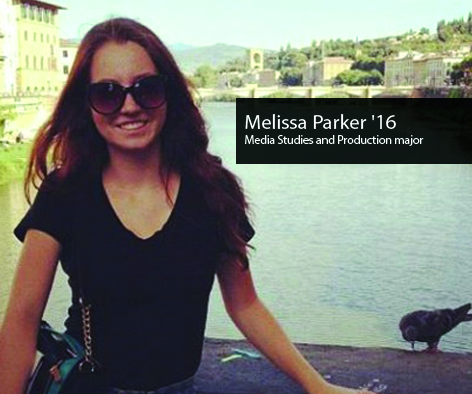 Melissa Parker
Melissa Parker is a Media Studies and Production major from Upland, California. She studied abroad in Italy through the Freshmen Florence Experience. Since then, Melissa has become very immersed in the Marist student body and traveled abroad to London in her junior year, where she acquired an internship with a small production company.
What sparked your interest in doing FFE?
I really love to travel and learn about different cultures, so this opportunity seemed too hard to pass up. I went to Marist for the Freshman Florence Experience because no other school had anything like it.
How do you feel FFE impacted you?
I feel as if it made me a more mature and independent person. When you're 6,000 miles away from home in a foreign city speaking a language that you don't really know, it kind of forces you to grow up a bit. As a student, this experience helped me prioritize my time well. I had to get my work done as soon as possible and not procrastinate if I wanted to travel to a different country every weekend.
Would you recommend other students doing FFE?
1000% yes I would recommend Freshman Florence Experience to other people. It was the most amazing experience of my life. I met some of the greatest people, learned a lot in my classes, and about myself. Plus, I got to travel Europe. It's such an amazing experience all around.
What advice do you have for prospective students thinking about doing FFE?
I would have to tell students thinking about FFE to not be nervous or worry about anything. Marist does a great job taking care of students throughout the whole process of getting your visa, getting to Florence, living in Florence, and then transitioning back to Marist sophomore year. Join FFE, you will fall in love with the city and you won't have any regrets.
Written by Emily Belfiore '16
---
Profile Tags:
Profile Type: Alumni
Major: Media Studies and Production
Academic School: Communication and the Arts
Campus: New York