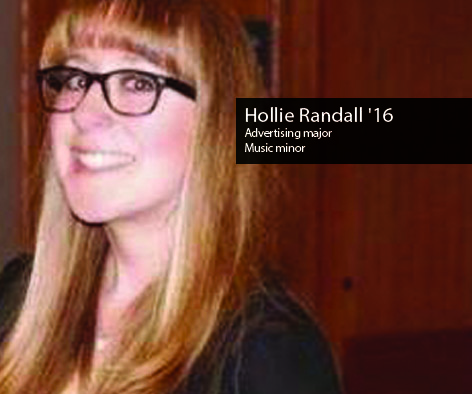 Hollie Randall
Hollie Randall is a Senior from Unionville, CT. She is a major in Communications with an advertising concentration, with a minor in Music. She is the Vice President of Membership in the Honorary Music Sorority Tau Beta Sigma and is the Secretary of Lambda Pi Eta, the Communications honors society. As part of the Marist band, Hollie plays the flute and the mellophone.
How did you decide on coming to Marist College?
I had never heard of it before applying; only a few people from my high school had attended in the past, but I happened to stumble across their website during a college search. Not only was the campus beautiful, the people were so friendly when I visited, that I could tell that I could feel comfortable here.
How has Marist helped prepare you for the real world?
In high school, I was not really someone to ever assume a leadership role, and here I am, on the executive board of two honors groups! Being a part of these organizations, as well as performing in the band, has definitely helped me learn simple, but necessary skills: time management, leadership, working quickly under pressure, and how to manage stress without falling behind.
What would you say to a high school senior looking at Marist College?
There are flaws to every school, but the key thing is making sure they don't affect what you learn, and what you want to get out of college. All of the teachers I've had at Marist really cared about us learning something, not just giving out easy A's, and I very quickly started calling this place home, literally.
Written by Gregory Rycharski '16
---
Profile Tags:
Profile Type: Alumni
Major: Advertising
Academic School: Communication and the Arts
Campus: New York