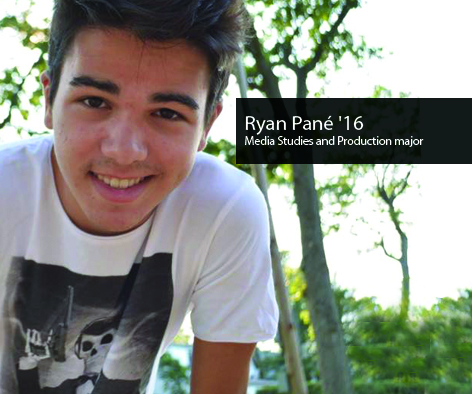 Ryan Pane
Ryan Pané is a graduating senior from Malverne, New York. At Marist, he majors in Media Studies and Production, with a concentration in TV and film. Ryan has spent a lot of time with MCCTA (Marist College Club of Theatre Arts) and is president this year. In his last semester at Marist, Ryan looks back at his college experience and the lessons he has learned.
What is the most important lesson you have learned in your time at Marist?
I believe that the most important lesson that I learned was to listen and to question. Everyone in the world knows at least one shred of information that you don't, so I find it important that we listen to each other. And when you do listen, question what people say. If someone's preaching information that doesn't sound accurate, question it. Together you will find the right answers.
What opportunity would you advise incoming freshman to take advantage of at Marist?
I would strongly advise incoming freshmen to be as active as possible. Take advantage of every opportunity that Marist has to offer and don't put things off. So live in the moment, and try new things, join clubs, go to events or concerts, trips to the city etc… Just do what will make you happy and what will better you as an individual.
How has Marist prepared you for life after graduation?
I feel that Marist plays a significant role in preparing individuals for the real world. They supply the raw materials, like classes and lectures. And then it is up to you to curate what you want to learn and do. I suggest learning as much as you can so that you can be prepared for what comes next.
Written by Sarah Gabrielli '18
---
Profile Tags:
Profile Type: Alumni
Major: Media Studies and Production
Academic School: Communication and the Arts
Campus: New York