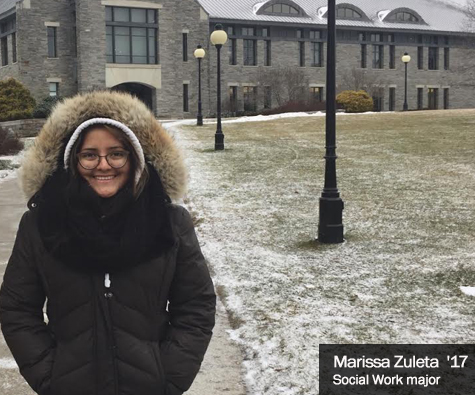 Marissa Zuleta
Graduating Senior Marissa Zuleta was raised in Koreatown in Los Angeles, California. Since coming to Marist she has studied social work and acted as president of the Social Work Association. She recently participated in the Tarver Summer Internship Program.
How has your experience at Tarver prepared you for a career in social work?
Among other things, the Tarver internship increased my professionalism and writing abilities. I was given the opportunity to have constructive supervision, which is never guaranteed in the Social Work field. I was fortunate to shadow Sharon Doane who, at the time, was the Director of Forensic Services. Sharon's supervision tremendously improved how I articulated myself both verbally and in writing – in a way, she made my voice stronger.
How did you figure out how to create your place at Marist?
I experienced a huge culture shock when I arrived at Marist and had an especially difficult time acclimating as a first-year student. Community engagement was what made me feel more at home, so I became a volunteer at The Pines at Poughkeepsie through Campus Ministry. I also found my niche through the Center for Civic Engagement, where I was able to connect with groups that resemble my friends, family, and community in Los Angeles. The National Association of Social Work (NASW) values dignity, loyalty, and compassion and these aligned to values my family instilled in me, which catalyzed my interest in the social work program.
What is one thing you wish you knew before coming to Marist, that you want to pass on to incoming students?
I am an avid lover of the City of Poughkeepsie and encourage everyone to explore the small businesses and grassroots efforts. Please take every situation as a learning experience despite how insignificant an interaction might seem, you could be making a world of a difference. Lastly, avoid the savior complex because it leads to unsustainable projects. If you are interested in working with a specific population, ask for their feedback and give them the opportunity to also make decisions that affect them directly. Whatever you decide to work on, do it with passion and the biggest smile.
Written by Sarah Gabrielli '18
---
Profile Tags:
Profile Type: Class of 2017
Major: Social Work
Academic School: Social and Behavioral Sciences
Campus: New York