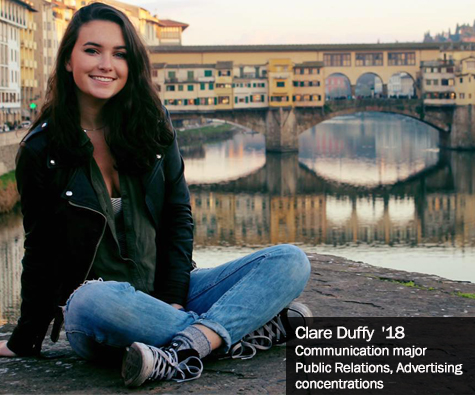 Clare Duffy
Clare is a junior from Fairfield, Connecticut. She is a communication major with a dual concentration in advertising and public relations. Clare spent her first semester of her junior year studying abroad in Florence at the Marist-LdM campus.
Why did you choose Marist?
My older sister came here and she loved everything about it so she made me really excited about the school.
What did you most enjoy about going abroad?
I loved being independent and having a different educational experience while being able to travel and meet new people from other schools and cultures.
What was your best experience freshman year?
My best experience freshman year was definitely getting to know my roommate and becoming really close friends with her. She was pretty awesome and is still one of my good friends.
Do you have any advice for incoming freshmen?
Your first friends may not become your best friends. Be open to meeting different kinds of people and be kind because everyone is experiencing the same anxieties in this new environment.
Written by Erin O'Brien '18
---
Profile Tags:
Profile Type: Class of 2018
Major: Communication
Academic School: Communication and the Arts
Campus: New York