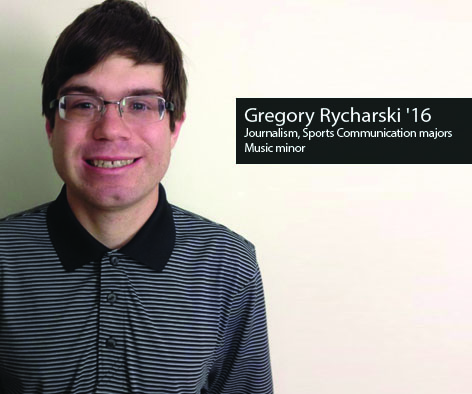 Gregory Rycharski
Gregory Rycharski is a senior from Haskell, New Jersey, and majors in Journalism and Sports Communication, with a minor in music. Gregory is the president of Marist Anime Society, as well as a webmaster of the Iota Alpha chapter of Tau Beta Sigma. Gregory is an active member of the Marist College Band, playing the trombone for the fourth straight year in both symphonic bands, brass ensemble, orchestra, and the Jazz Foxes. Gregory also is an occasional contributor to The Circle student newspaper and appears on WVCR the Saint, the Siena College radio station, for a weekly sports segment.
Why did you choose Marist College?
Marist was the first campus I visited in my college search, and I immediately fell in love with the campus and its people. I remember asking my mom if we could stop visiting schools right then and there. It just felt like the place that I would fit in and thrive.
How do you have the time to be involved in so many activities?
Sometimes it can be a challenge to juggle the balls in the air, but I always feel that idle minds are not being put to work properly. Besides, I have met so many friends by joining clubs and activities, and no matter what club it is, you will learn something that will prepare you for the future.
What do you want to do after college?
I want to really be involved in the sports journalism sphere, specifically in baseball. I'm also interested in politics, so if sports does not pan out, I could always try the beat on the beltway.
What advice would you give to an incoming student?
Put yourself out there. Get involved, make friends, and, overall, have fun. If there was any school where you could move out of your comfort zone and try something new, it would be Marist.
---
Profile Tags:
Profile Type: Alumni
Major: Journalism
Academic School: Communication and the Arts
Campus: New York