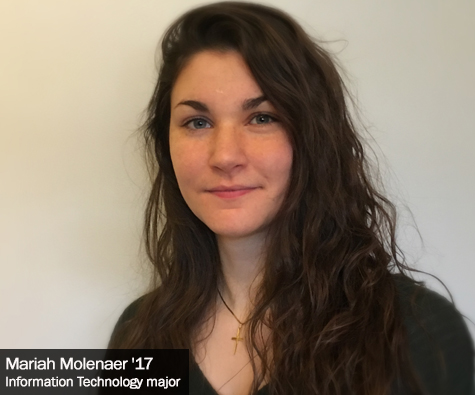 Mariah Molenaer
Mariah Molenaer will be graduating with a Bachelor's degree in Information Technology this spring. She is also a commuter student from Wappingers Falls, NY. At IBM's 2016 TechConnect competition, Mariah and her group won in the Early Tenure, Best Solutions category for their project on CyberSecurity.
What does it mean to you to have won the competition?
It just goes to show how meaningful and relevant the work is that we are doing in the Marist-IBM Joint Study. We were competing against full-time IBMers who had been in working in the industry for a couple of years, so the fact that our work and research came out on top is significant.
What is your most significant memory/lesson learned from the whole experience?
Always work hard, you never know what kind of opportunities you may be presented with.
What is it like to be a female in a male-dominated career field and major?
Career paths and major choices are personality and intellectually driven, so being around and working with people that think pretty similarly to me never seems to draw any gender divides; I like being in the minority anyway.
What piece of advice would you give to incoming tech students?
Don't be afraid to consult your professors and other students if you need direction. Everyone here is really dedicated to seeing you succeed and it's a great environment to be a part of. And most importantly, find something you really enjoy doing and have a passion for, because then work will never be work.
Written by Sarah Gabrielli '18
---
Profile Tags:
Profile Type: Alumni
Major: Information Technology
Academic School: Computer Science and Math
Campus: New York